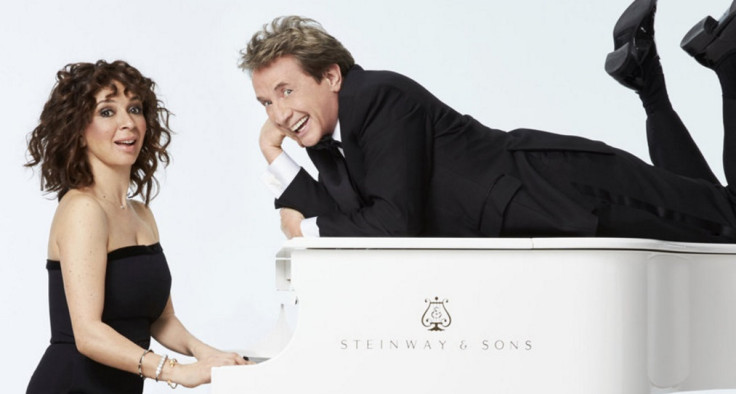 Maya And Marty premiered on NBC last night, adding to the platter of old-school variety shows on TV, which is rare for the network other than the popular Saturday Night Live. With Lorne Michaels of SNL fame as the executive producer, the NBC series brought together two comedy champions – Maya Rudolph and legendary comedian Martin Short.
With a star-studded guest list including names such as Tom Hanks, Kate McKinnon, Jimmy Fallon, Kenan Thompson and Larry David featuring in the premiere episode of Maya And Marty, the series seems worth a watch.
Apart from the high profile appearances, a special performance by pop-singer Miley Cyrus was also included in the premiere episode.
Cyrus took the stage and performed her rendition of I'm Your Man by Leonard Cohen. The songstress was dressed in black trousers, a suit and a hat for her first performance, however, as she moved on to the second performance, the Wrecking Ball singer showed her wild side.
Ripping off her pants, leotard-clad Cyrus belted out a sensuous version of I'm A Woman in cabaret style. As she sang the Peggy Lee number, she was joined by Rudolph on stage, who was dressed similarly. The duo made quite an impression as they danced and sang the peppy track.
Speaking about teaming up with comedian Martin, the Saturday Night veteran told E! News, "I should be so lucky getting to work with one Marty Short. It's a dream come true for me for many reasons." Her feelings were echoed by the comedy legend as well. "This is an insane genius. Every time we do anything, any sketch or any character that she does is the perfect choice and steals the scene," he said.
If you missed the premiere episode of the NBC show Maya And Marty, click here to watch it live online. The show airs on NBC on Tuesday nights at 10pm EST.