Mention that you use your phone as a method of payment and most people will automatically assume it is via Apple Pay. Those more tech-savvy might go as far as the option of paying for in-app purchases or music via a debit or credit card.
Few, however, would consider paying for a TV or a pair trainers and being charged on their phone bills as a viable option. Yet, Cambridge-based Bango has developed a technology which allows millions of users to make purchases for any type of content and pay for them on their mobile phone bills.
The system is very simple. Whether purchasing an app or an album in Google Play or Windows Store, or buying a TV on Amazon, users simply have to select their phone as the preferred method of payment, much as they would do with a credit or debit card but without entering lengthy details.
Whatever is bought is then charged to their bills, or deducted from their pay as you go balance. There are multiple reasons for customers to choose to pay with their phones.
"Some people simply do not trust cards and many who do are reluctant to share their details online," says Bango's chief executive and founder Ray Anderson.
"Others opt to pay with their phones as it helps them regulate their spending pattern."
Additionally, while smartphones are available and regularly used worldwide, a number of countries still have very limited access to debit and credit cards.
"Indonesia is a massive market for us, as there is very little credit card penetration. Some 90% of our users have a pre-paid phone and use it for their purchases."
Founded in 1999, Bango pioneered mobile internet payments and introduced so-called "charge to bill" services and a "browse and buy" model for mobile payments. Following the advent of smartphones the firm, which floated on the London Stock Exchange in 2005, focused its attention on the big smartphone platforms and in 2010 struck a deal with RIM to provide billing for its BlackBerry App World store.
Since then, Bango has joined forces with the likes of Microsoft, Google, Amazon and PayPal. The company's recent enhancements to its technological platform means it can now process transactions in excess of a combined £5bn each year.
The figure is by all accounts impressive, but Anderson maintains the company is "only scratching the surface of its potential".
Acting as a payments provider for some of the world's major retailers means Bango has access to insights on its users' shopping patterns, which in turn can be very valuable to its customers.
"Our business allows us to analyse spending patterns and shopping trends," explains Anderson.
"That helps us to tell our clients which new markets might be worth looking at as well as relaying to them any issue their customers might be experiencing."
The more customers and partners that adopt the platform, the more transactions are analysed by Bango's technology. In turn, that boosts the platform's profile, providing the kind of insights that drive revenue growth.
Risk of a "double whammy"
With access to huge amounts of data, however, comes the increasing need for cyber security, particularly given the rapid rise on hacking threats.
Bango's chief financial officer Rachel Elias-Jones admits as a company dealing with payments and having access to customers details, the risk of a "double whammy" is high but cyber security is "always at the top of the agenda" for the company.
Ironically, while Bango exports its technology to the four corners of the globe, the option of being charged on the phone bill for big ticket retail items is not available in Britain.
"Mobile phone operators in the UK have not been as progressive and as adventurous as in other countries," explains Anderson.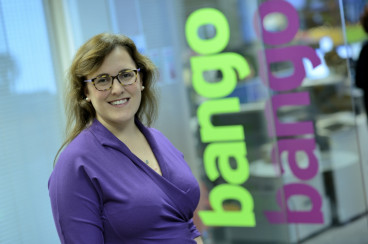 "Furthermore, the fact that the four main mobile operators would have to come to an agreement makes it even more challenging for this technology to be used for high priced items. In other words, the technology is implemented, but the price points are not allowed."
Not that one gets the feeling Bango is overly concerned with a lack of business in Britain, as the company's operations span from Asia to Latin America and from Africa to the US.
Cambridge's tech scene is home to some of the main companies in the world and both Anderson and Elias-Jones are eager to point out how important such an international vibe is.
Anderson adds: "We do not want to be seen purely as an English company.
"We employ people from all over the world, our operations cover a number of countries and our accounts are written in American English. If you behave like a truly global company, you get treated as one."
A "Brexit safe haven"
Bango's international profile has also considerably softened the Brexit blow suffered by some of its peers. Anderson claims the company was described as a "Brexit safe haven", given it conducts 95% of its business outside the EU. Furthermore, the pound's decline over the last 12 months has considerably boosted revenues, which are calculated in the local currencies of the markets the company operates in.
Last week, Bango revealed its annualised end user spend surged to £300m a year at the end of June this year, compared with £195m at the end of December 2016.
The company, which will publish its interim results in September, expects the promising start to the year to continue into the second half of 2017, adding to its sales pipeline, while market opportunities remain very positive.
Anderson is also eager to draw attention on the annual costs, which are kept steady around the £5m mark, a remarkable feat in an ever-changing scene, which requires constant investment.
"We have managed to keep our costs low by building a scaleable platform which has allowed us to plan ahead," he says.
"Our data centres are built to handle huge volumes of transactions, as we know our customers will continue to grow and the volume of transactions will continue to increase."