Meghan Markle joins Prince Harry via Skype as he visits Malawi College
The Duchess of Sussex, Meghan Markle gave a speech over Skype during an event promoting female education.
As Prince Harry started the final leg of his Africa tour, he travelled to Malawi leaving behind his wife Meghan Markle and son Archie Harrison. The Duke and the Duchess of Sussex are on their first royal tour with baby Archie. Since the little one is only four-months-old, royal experts were concerned about the progress of their trip to South Africa.
The first official tour of the royals as a family-of-three seems to be going great and the royal couple is determined to not let anything hinder their public appearances and royal duties.
According to The Sun, Prince Harry visited Nalikule College of Education in Lilongwe where he met and interacted with female charity workers for the promotion of female education. During his talk, he introduced his wife to the crowd via a Skype call from Johannesburg.
"I know there's somebody else you'd far rather hear from than me, hopefully if technology doesn't fail us you may see somebody on the screen," Harry said before the duchess appeared on the screen. As soon as she appeared, the crowd started singing and cheering.
Meghan gave a speech and joked about Archie taking a nap by her side as she spoke to them. "I wish I could be with you, we're in South Africa right now, Archie's taking a nap. I'm with you in spirit," the 38-year-old royal ended the speech.
An alumni network known as CAMA has been working towards providing education to women for the last 25 years. They have helped women by providing them financial and practical support to overcome challenges of poverty and acquire education. The network pays for fees, uniforms, schoolbooks and empowers girls to educate themselves.
Harry and Meghan arrived in South Africa last week for their 10-day tour. In their first leg of the tour the family made an appearance in various public engagements. However, on the rest of the tour involving visits to Botswana, Angola and Malawi the prince travelled solo.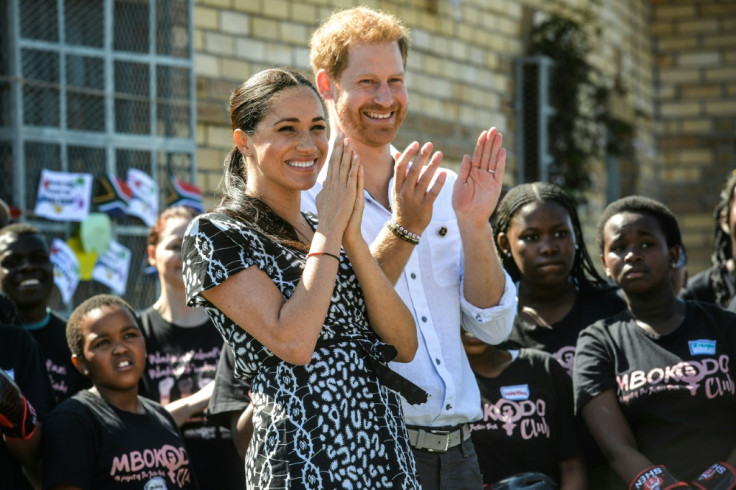 In the past few days, the royal couple met Noble Prize winner Archbishop Desmond Tutu, Graça Machel, widow of the late President Nelson Mandela, President Lourenço of Angola and President Peter Mutharika of Malawi.
Harry and Meghan even visited some schools and charities, made donations and worked towards increasing awareness regarding issues like child mental health, female empowerment, self-defense, wildlife protection and more. Meanwhile, the royal couple took part in some fun community events like cooking sessions and are set to return to the UK on October 2.
© Copyright IBTimes 2023. All rights reserved.