Mers virus claims first victim in Europe as death toll rises in South Korea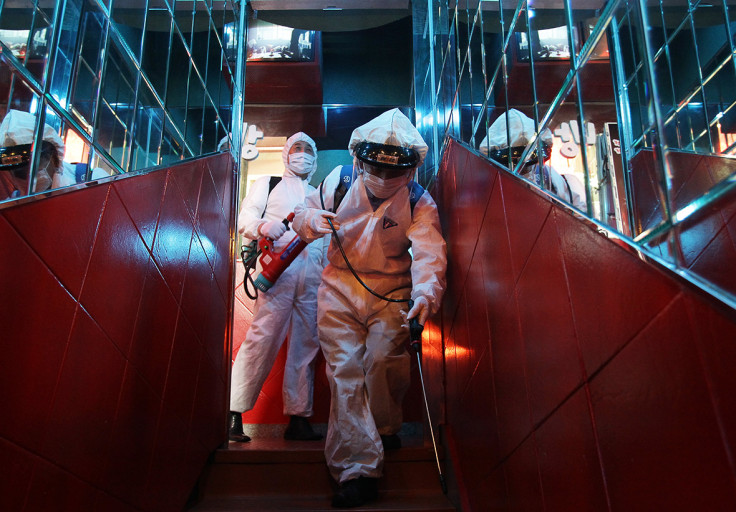 A German man has died of complications from the Middle East Respiratory Syndrome (Mers) virus, becoming the first victim on European soil since international concern over the disease was refuelled by an outbreak in South Korea.
Health officials in Lower Saxony said the 65-year-old died of a lung infection at a hospital in Ostercappeln, north-west Germany on 6 June.
Authorities said they believe he contracted Mers in February as he visited a livestock market in Abu Dhabi.
He was successfully treated on his return but the virus left his body weakened eventually opening the door for the infection that killed him.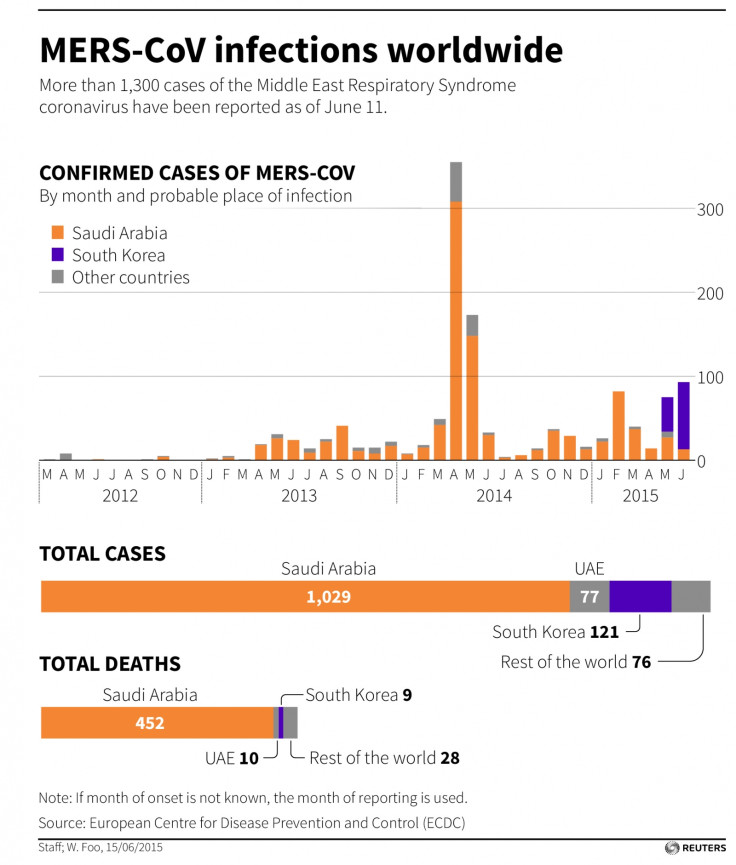 The number of reported Mers cases since 2012.
Reuters
Michael Schiffbaenker, a spokesman for the Niels-Stensen group of hospitals, said they were not to release details of the infection in agreement with the family.
Officials played down fears that Mers could spread in Europe, saying that they conducted tests on 200 people who had contacts with the man and none tested positive.
It was the third confirmed case of Mers in Germany since the virus was first reported in Saudi Arabia in three years ago. Another two patients, from Qatar and the UAE, were treated in the country in 2012 and 2013 after contracting the virus abroad. One died and the other survived.
Meanwhile, South Korea said another person has died from Mers bringing the death toll up to 20 since an outbreak erupted in the country at the end of May.
Most of the victims were elderly people suffering from pre-existing conditions.
The Health Ministry also said eight new cases were confirmed putting the total number of patients diagnosed with MERS at 162.
Earlier this week, Seoul urged calm, insisting the outbreak was slowing down.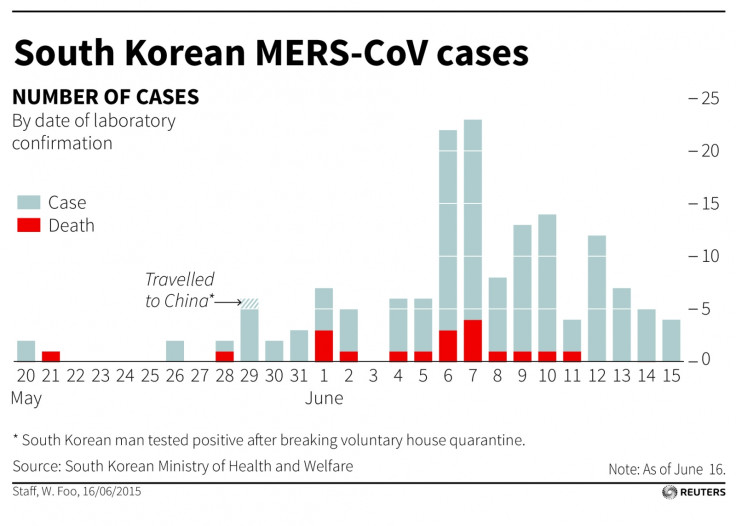 The confirmed dates of Mers cases in South Korea and deaths
Reuters
A joint report by a South Korean and World Health Organization (WHO) expert has concluded that the virus was "clustered around health facilities" and there was no evidence it was circulating in the community or threatening to turn into a pandemic.
The report stressed the importance of continuing monitoring and quarantining to contain the disease.
A respiratory disease, Mers is believed to be passed on through respiratory secretions, such as coughing, however the infection process is not yet completely understood.
It belongs to the same family as the common cold and Sars, which killed almost 800 people between 2002 and 2003 in a pandemic that started in Asia.
Strains of the virus have been found widely in camels, considered as a likely source of infection.
Typical symptoms are fever, cough, and shortness of breath, according to the WHO.
© Copyright IBTimes 2023. All rights reserved.