Mexico female mayoral candidate beheading: Drug violence continues after bosses' arrests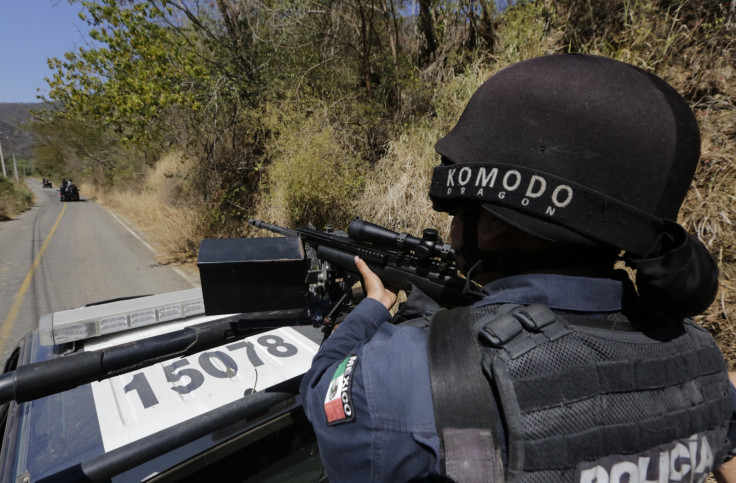 A female mayoral candidate in a Mexican town was beheaded by suspect cartel gangsters, underscoring how organised crime remains rife in the country despite a number of recent high profile arrests.
The headless body of Aide Nava Gonzalez was found ditched on a road in the southern state of Guerrero, which was the scene of the disappearance of 43 teacher-training students last autumn.
Nava's killers had left a note reading: "This is what will happen to anyone who does not fall in line, f***ing turncoats," according to The Times.
The message was signed Los Rojos (The Reds), the name of a local crime syndicate.
Nava, 43, was kidnapped at a political event as she was campaigning to become the mayor of Ahuacuotzingo, an office previously held by her husband, who was also murdered last year.
A member of the left-wing Democratic Revolution party (PRD), Nava had also lost her son to crime violence, as he was abducted in 2012 and has not been seen since.
Police said they have opened an investigation into the murder. Guerrero residents' faith in local authorities is however at record lows since federal prosecutors revealed that security officers in the city of Iguala, some 150km north-west of Ahuacuotzingo, were involved in the murder of 43 students.
The trainee teachers were allegedly held by corrupt officials during a demonstration upon the orders of the city's mayor and his wife and then handed over to a local drug gang, the Guerreros Unidos.
They were murdered and their bodies burned on a pyre for 14 hours making it almost impossible for authorities to identify the remains, prosecutors said.
The case triggered massive protests across Mexico, with President Enrique Pena Nieto facing growing pressure to tackle corruption and end impunity for security forces.
Nava's murder came days after federal authorities captured two high profile drug lords: the head of the infamous Los Zetas cartel, 'Omar' Trevino Morales, and the leader of Knights Templar syndicate, Servando "La Tuta" Gomez.
The two had been long sought by authorities and their arrests were advertised as a great success in the government's war on organised crime.
Gomez and Morales were the latest in a long series of drug lords from all cartels to be captured or killed in the last few years. Analysts however suggested that targeting bosses helps the fragmentation of organised crime but has little effect on the overall level of violence and criminality.
"Mexico cannot reduce the violence in the country, cannot reduce the issues of corruption and cannot manage social unrest by going after crime bosses alone. The issues are far deeper and more complex than that," said Tristan Reed, Mexico security analyst for the Texas-based global intelligence firm Stratfor.
"For Mexico to really have an impact on its security throughout the country it requires a lot of changes in terms of development and social issues."
Reed said that if corruption, public security and the languishing economy are not addressed, drug cartels will continue to flourish in the region, with other clans and bosses emerging to fill the void left by those arrested or killed.
"Guerrero and Michoacán particularly have many poor communities, that something that contributes to the overall crime and insecurity as well as unrest," he said.
Meanwhile, in a separate development, authorities said they have detained a total of 20 federal police officers accused of kidnapping a businessman in the border town of Matamoros, across the Rio Grande river from Brownsville, Texas, and demanding a $2m (£1.3m) ransom.
© Copyright IBTimes 2023. All rights reserved.