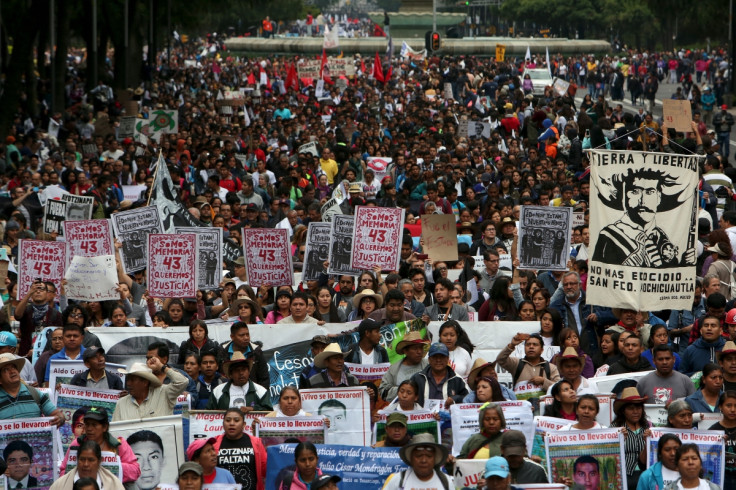 Thousands of people took to the streets in Mexico City to mark one year since the disappearance of 43 students. The campaign is heaping more pressure on President Enrique Pena Nieto whose image has taken a beating following the incident.
Demanding justice for their beloved ones, scores of family members including the parents of the students marched down the Mexican capital's premier avenue, Paseo de la Reforma, towards the historic Zocalo Square. Placards reading "Crime of the State" and "Get out Pena" were seen among the streaming protesters. Activists are hopeful that the campaign will force the government to speed up the investigation.
"We came with a thirst for justice. There can be no impunity. Behind the 43 are thousands of disappeared," a student Sofia Rojas told the AFP news agency. Iguala town in the southern Guerrero State has been a transit hub for drug cartels and has been battered by a fierce drug war which broke out in 2006. Between 2007 and July 2015, the government estimates 25,000 people have gone missing.
Since the disappearance of the students in September 2014 in the town dominated by drug cartels, the DNA of only two students has been identified from the remains of bodies that were found. Parents have been demanding that the government hand over the probe to an internationally-supervised special investigation force.
An international team of experts who have recently begun examining the incident have questioned the government's version of the events leading up to the students' disappearance. The federal government claimed the students were turned over to the notorious drug gangs by local police, but there are few takers for this line. The victims are thought to have been killed and their bodies burnt by the drug groups.
"The people have gone back to tell the president we don't believe him, we're not idiots. Mexico needs to get to work on this case. It's a lie we're not going to swallow," a 30-year old protester named Moises Acosta told Al Jazeera.