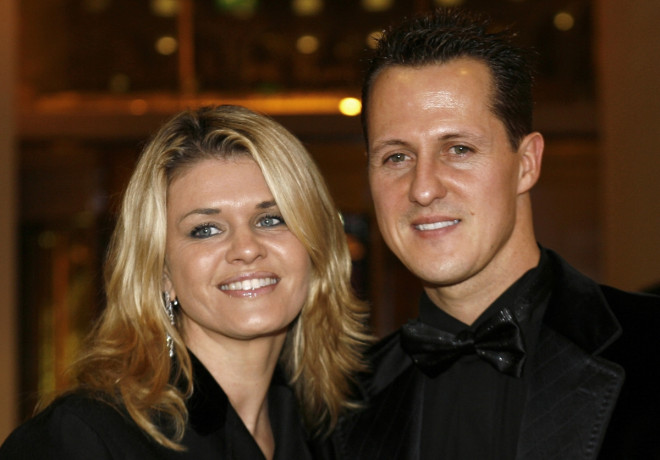 Ferrari paid tribute to Michael Schumacher at the Spainish Grand Prix amid warnings from a medical expert that the star faces having to learn how to walk and talk again – should he ever emerge from his coma.
Members of the Ferrari team, including new team principal Marco Mattiacci and drivers Fernando Alonso and Kimi Raikkonen, posed together last weekend with a board reading: 'Remembering your 1 [first] win with us #forzamichael.'
They did it to mark Schumacher's first win as a Ferrari driver, which came at the Montmelo circuit in 1996.
The German went on to win five drivers' championships with the Maranello outfit in a glorious spell which secured his status as one of the best racers the sport has seen.
The tribute came as a Cambridge University professor warned the four-month coma guarantees that "Michael Schumacher will not be Michael Schumacher anymore."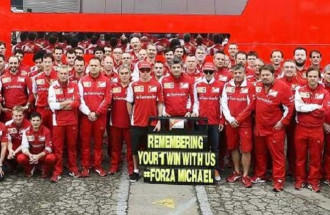 Professor Peter Hutchinson told Focus magazine in Germany the 45-year-old no longer appears to be in danger of death, but the good news ends there.
He said: "It is not as if someone will switch on the light and the patient is all there. He will probably come back to a world he doesn't know.
"Michael Schumacher seems to have won his fight against death. But he still has the fight for his life ahead of him.
"He's coming back into a world where everything has changed. He will return to a reality to which he is not accustomed.
"Michael Schumacher will not be Michael Schumacher any more.
"He must find a way to cope with the new conditions, new needs to learn basic skills. Talk, eat, walk - perhaps nothing is as easy as it once was."
Schumacher, 45, remains in a medically induced coma at Grenoble University Hospital, near the French Alps. His wife Corinna and the couple's children maintain a bedside vigil.