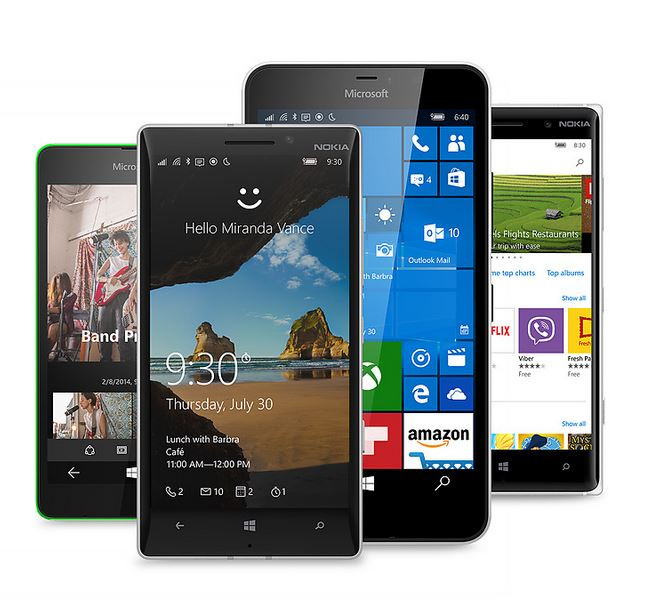 Almost eight months after making the desktop version of Windows 10 available, Microsoft has finally rolled out the new operating system for Windows Phone users. The Windows 10 Mobile is now making its way through select Windows Phone 8.1 devices.
Windows Phone 8.1 devices supported for the upgrade are Lumia 1520, 930, 640, 640XL, 730, 735, 830, 532, 535, 540, 635 1GB, 636 1GB, 638 1GB, 430, 435, BLU Win HD w510u, BLU Win HD LTE x150q, MCJ Madosma Q501.
The list of devices eligible to receive Windows 10 Mobile does not include some that are running developer preview versions of the OS. Microsoft explains that the new Windows OS brings several significant features and many older devices will not be able to successfully upgrade without an impact on the customer experience.
To install Windows 10 Mobile upgrade on a device, ensure that your phone is running Windows Phone 8.1 GDR1 QEF8 or later. You must have at least 1.4GB free space to install the upgrade and a stable Wi-Fi connection. It is also important to note that with the installation of Windows 10 upgrade, some features on your device would be modified, or removed.
The availability of the upgrade varies according to device manufacturer, model number, region, service providers, hardware limitations and other factors. One of the easiest ways to find out whether the upgrade is available for your phone is to install the Upgrade Advisor app that can be downloaded from the Windows Store for free. Run the app to see if the upgrade is available and select Enable Windows 10 upgrade.
"Our goal is to only offer the Windows 10 upgrade to devices that we are confident can continue to deliver a good customer experience," said Michael Fortin, corporate vice president of Windows and Devices group core quality.