Microsoft Build 2015 Keynote: How to watch livestream online and what to expect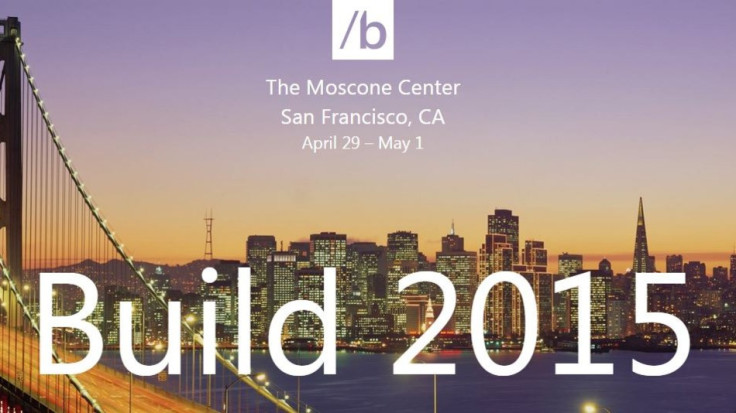 Microsoft's Build 2015 conference will kick off on Wednesday 29 April with a keynote which is expected to feature details about Windows 10, Lumia 940, HoloLens, Xbox, Surface, smartphones and more.
Described by one Microsoft executive as the most important event in the recent history of the company, the event will centre on Windows 10, but there will be a lot more to talk about including more details about Microsoft's future gain virtual reality headset HoloLens, its smartphone plans (which could include the Lumia 940 smartphone) as well as more on Surface, Xbox and 3D printing.
We have published a full preview of Build 2015 if you want catch up on everything Microsoft.
IBTimes UK will be in San Francisco to cover the event live, but if you want to watch the Build 2015 keynote live, then here are the details:
When and where is the keynote taking place?
Microsoft's Build 2015 will take place between 29 April and 1 May in the Moscone Center in downtown San Francisco. The Build 2015 keynote will kick things off with Microsoft's CEO Satya Nadella set to take the stage at 8.30am local time.
Here's a list of times the event will be starting around the world:
San Francisco - 8.30am
New York - 11.30am
London - 4.30pm
Amsterdam - 5.30pm
Johannesburg - 6.30pm
Bangkok - 11.30am
Hong Kong - 00.30am (Thursday)
Seoul - 1.30am (Thursday)
Sydney - 3.30am (Thursday)
Where can I watch Build 2015 keynote it online?
Microsoft will be livestreaming the Build 2015 keynote live on the Build 2015 website on Wednesday:
Microsoft Build 2015 website
© Copyright IBTimes 2023. All rights reserved.