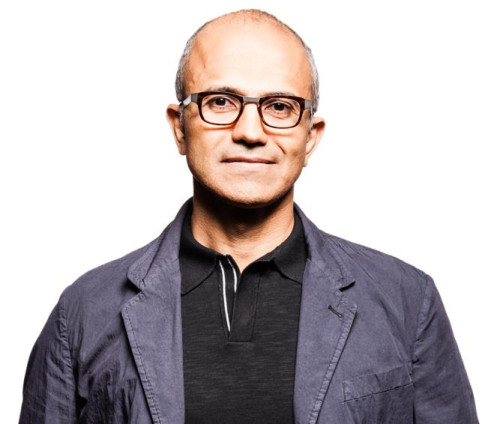 Born in India in 1969, Satya Nadella is Microsoft's executive vice president for its Cloud and Enterprise division. Nadella and his team deliver Microsoft's Cloud OS platform, on which the company's online services are built.
Nadella earned a Bachelor's degree in Electrical Engineering from Mangalore University, India, followed by a Master's degree in Computer Science from the University of Wisconsin and a second Master's degree in Business Administration from the University of Chicago.
His career began as a member of technology staff at computer manufacturer Sun Microsystems, before joining Microsoft in 1992 as a programme manager in the Windows Developer Relations group.
Transformation to the cloud
Nadella soon became senior vice president of Research and Development for the company's Online Services division, followed by a stint as the vice president of Microsoft Business Solutions. He then became president of the company's $19 billion (£11.6bn) Server and Tools Business, where he led Microsoft's transformation from providing software for clients' servers, to cloud-based infrastructure and services.
During his rise through the ranks at Microsoft's Redmond headquarters, Nadella founded and led Microsoft Central, the small business online services group; he was also general manager of the company's Commerce Platforms group and is considered responsible for leading the development of Microsoft's Commerce Server, BizTalk Server and Office Small Business departments.
Additionally, Nadella played a significant role in Microsoft's work in technologies such as digital rights management (DRM) and interactive television.
From Bing search to Xbox Live
Through his current position as head of the Cloud and Enterprise division, Nadella oversees the running of Office 365, the Bing search engine, SkyDrive storage service, Xbox Live, Skype and Dynamics, making his role vital in Microsoft's transformation from a software provider to a devices and services company.
Away from Microsoft, Nadella has been a director of networking company Riverbed Technology since March, 2013, is a director of BraveSolutions US, a waterproofing and corrosion control company, and also serves on the advisory board of sales commission company Nirvaha.
Household name
Nadella may not be a household name to match Bill Gates and Steve Ballmer, nor has he the experience of leading an entire company, however his 20-plus years at Microsoft should not be ignored, and although he hasn't worked in the crucial mobile devices division, Nadella's vast cloud experience puts him in good stead to oversee a company with a wide-ranging catalogue of online products.
Finally, at 45 Nadella has age on his side, being younger than both Tony Bates and Stephen Elop. With only two previous CEOs in its 38-year history, Microsoft will be looking for a leader who can stay for many years before considering retirement.
Who are Satya Nadella's rivals for CEO job at Microsoft?