Technology giant Microsoft, which officially showcased the much expected Windows 10 smartphone operating system way back in January, is expected to release the OS later in the year.
Now, it seems that the Windows 10 smartphone platform, called the Windows 10 for Phones will come bundled with features that let users keep track of their health. On paper, this functionality seems similar to the one present within rival OSes predominantly Apple's iOS (Health-Kit app inherent within the OS).
According to a NokiaPowerUser report that refers to screenshots that surfaced via the official WinHec presentations, Windows 10 for Phones will let users keep tabs on their physical activity via customised sensors that include the heart rate monitor.
Gauging by the Nokia Power user report, it is evident that there would be a built-in Activity Monitor sensor through which a user's Windows 10 smartphone can learn if the user has done any physical activities such as jogging, bike riding, walking and even driving.
Once the sensor gathers vital user activity related information, it stores these in customised databases and tracks users' frequency of performing vital activities so as to keep tabs and issue reminders with regard to time-bound activities.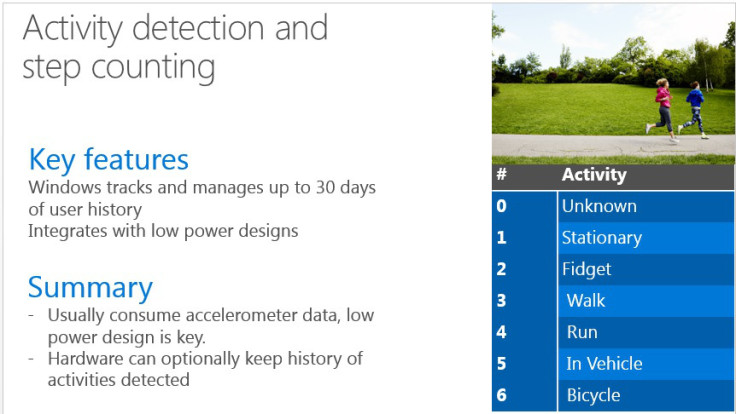 Activity Sensor is also said to be capable enough of determining whether users place their smartphones (running Windows 10) within their pockets, in the hand or even in a bag.
The above aspects are said to make the Windows 10 for Phones capable of storing vital user activity related data for up to 30 days.
Once officially released, Windows 10 for Phones is expected to incorporate the following new sensors:
Activity Detection, Barometer, Proximity, Pedometer, Data Batching, Adaptive Brightness sensors and Custom sensors.
Minimum system requirements to run Windows 10 within smartphones:
Microsoft has also released a list of minimum system requirements that users would need to meet, in order to effectively run Windows 10:
For smartphones:
Firmware: UEFI 2.3.1 Secure boot enabled
Memory: At least 512MB for 32-bit
Storage: Greater than or equal to 4GB of flash. SD card required for 4GB devices, for updates
Very recently, Microsoft announced that it would collaborate with Chinese smartphone company Xiaomi to test Windows 10 (Technical Preview) on Mi 4 handsets and obtain service-related feedback from testers.
Once officially released, Windows 10 will let users install vital system updates via the peer-to-peer (P2P) framework, and the new OS will use less space and free up as much as 2.6GB of system memory using customised compression techniques.