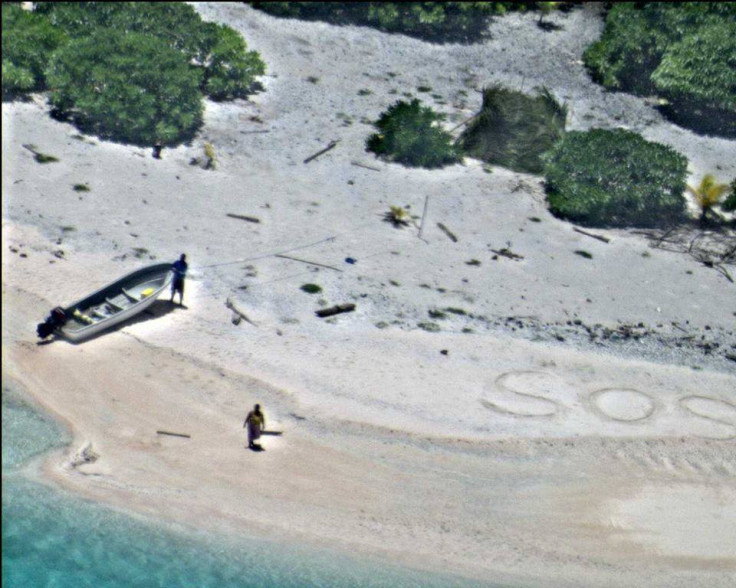 A middle-aged couple has been rescued from an uninhabited Micronesia island where they had been stranded for a week after scrawling a huge "SOS" message in the sand.
Linus and Sabina Jack had set out from Weno Island on 17 August with limited supplies and the alarm was raised the next day when they failed to reach Tamatam island aboard their 5.4m (17ft) vessel.
A huge week-long search was launched across 16,571 square miles of remote waters involving 14 ships, two planes and a police launch. Then on Wednesday, 24 August, a ship spotted flashing lights from East Fayu island.
A US navy plane went to the area and saw the SOS written on the sand beside the couple's boat and what appears in photographs to be a small hut made of branches. A patrol boat was then dispatched to rescue the couple.
On Friday, 26 August, the US Embassy in the Micronesian capital Kolonia posted a message on Facebook which said: "The Search and Rescue Operation for Linus and Sabina Jack has been successfully completed. They are found and are waiting for a ship to take them home."
The Federal States of Micronesia consists of 607 islands, located around 2,500 miles south-west of Hawaii and north of Papua New Guinea.
There was a similar incident in April (2016) when three men were rescued from another Micronesian island when they wrote "Help" in palm fronds after a boat capsized. The men were stranded on Fanadik for three days before being rescued by the US Navy.
In 2015 Briton Geoff Keys was rescued from the Australian outback after writing HELP 2807 and an arrow in the sand. Keys had been lost for two days after getting lost while out trekking in a remote area of Jardine National Park, Queensland.
Keys apologised to rescuers and his family following the incident, which happened during a round the world trip he called his "adventure before dementia."