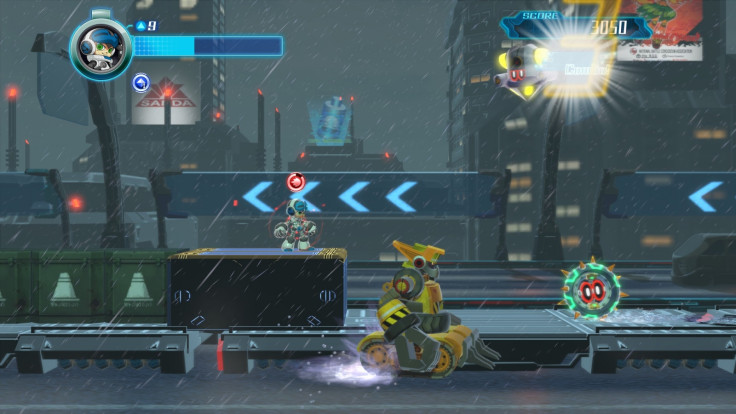 Publisher Deep Silver has released a new trailer for Mega Man creator Keiji Inafune's upcoming action-platform video game Mighty No 9. Titled Masterclass, the video has already been deemed a lesson in how not to market a video game.
According to the trailer's description: "Mighty No 9 is a side-scrolling action game that takes the best elements from 8- and 16-bit classics you know and love and transforms them with modern tech, fresh mechanics and fan input into something fresh and amazing!"
The trailer shows off the game's various gameplay mechanics including dashing, changing together combos and the ability to absorb enemies' abilities. However, rather than implementing a "show, don't tell" strategy as Polygon says, the trailer features a "dad-voiced narrator" who reiterates how "freaking cool" and "crazy addictive" the title's gameplay is through corny, '90s-era humour.
"You kill an enemy, and you can absorb their power-ups," the narrator says. "Stuff that'll make you faster and stronger, and make the bad guys cry like an anime fan on prom night."
The video has already drawn harsh criticism from viewers and fans for its "cringeworthy" narration that derides the game's target audience as well as its poor quality graphics.
"This is the worst marketing I have ever seen," wrote one YouTube commenter. "Nothing about this looks like it had a 4 million dollar budget," said another.
Published on 25 May, the trailer has already garnered more than 9,800 dislikes and counting compared to over 1,200 likes.
Mighty No 9 garnered nearly $4m in crowd-sourced funding backed by more than 67,000 through a Kickstarter campaign in September 2013 and was originally set to release only on Windows PC. However, Comcept - the studio founded by Inafune - later announced plans to add extra platform versions. The game's several delays past its originally planned 15 September 2015 launch date, which were blamed on the title's extra platforms and additional multiplayer features, also drew ire from fans. The title was first promised a Spring 2015 launch window.
Mighty No 9 is slated for release on 21 June for Xbox One, Xbox 360, PlayStation 3, PlayStation 4, Wii U, Mac and Linux in North America and Asia. The game will release worldwide on 24 June.