Small shops, kitchens, cafés and hair salons run by asylum seekers in the so-called Calais Jungle migrant camp near the port of Calais access point to the Channel Tunnel have been raided by French authorities.
Migrants, some fleeing war and poverty in the Middle East, Africa and Asia have amassed, in their thousands, on the French coast with the hope of making their way into the UK. But as the migrant crisis in the port continues, French authorities have been carrying out their strongest crackdown on migrants for five years, evicting, arresting, detaining or deporting migrants from France.
Last month, it emerged that France expelled or deported more than 10,500 migrants from its territory, including people seeking asylum from poverty or war that were eligible for refugee status, in a violation of international laws and conventions.
13 migrants arrested for alleged illegal trading
In January this year, residents resisted attempts to bulldoze the southern half of the informal settlement and its makeshift churches, mosques and kitchens after the local government in Calais issued an expulsion order to refugees living in that part of the camp, ordering them to pack up their possessions or face forcible removal by police.
While there has not yet been any official announcement, the authorities may be dismantling the northern zone of the Jungle camp, as French authorities carried out a major operation targeting the 50 small businesses run by migrants in the area on 19 July, according to local media.
Accompanied by a 150-strong police presence, officials from the Direction Départementale de la Protection des Populations (departmental directorate for the protection of civilian populations, DDPP) raided around half a dozen small businesses – concentrated along a path in the northern zone –according to the prefecture of Pas-de-Calais.
Thirteen people - ten Afghans and three Pakistanis - were arrested for alleged 'curb-siding' (illegally trading in buying and selling items and avoiding paying for sales taxes) with their goods seized. Four of the migrants will be appear before court in Boulogne-sur-Mer on 16 October, the prosecutor in charge of the Calais region, Pascal Marconville, confirmed.
Speaking at a press conference following the raid, a senior national government official for the Pas de Calais area, prefect Fabienne Buccio, said a number of the little shops have also been closed, and will soon "be destroyed".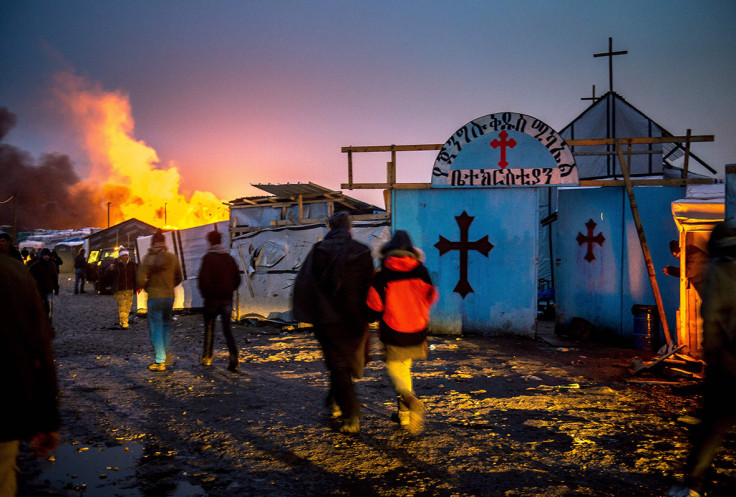 Associations: Closing friendly places to discourage migrants to stay?
It is the first large-scale operation carried out against these small businesses in the northern area. The stores, which have flourished since the camp sprang in April 2015, are known for being social meeting points.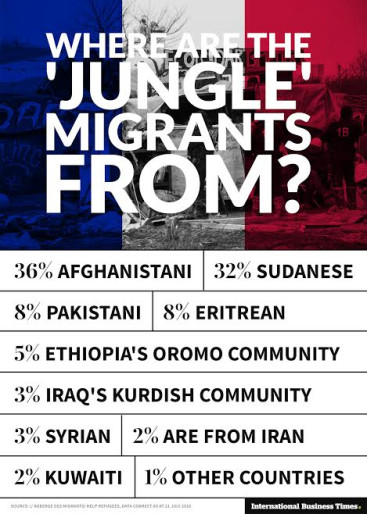 These informal shops have come under sharp criticism from local shop owners, who claim they now face unfair competition.
Ali, 26, opened his small restaurant 'Wellcome' after arriving at the camp two months ago, and he believes his small establishment is the next on the list. "If they close my restaurant, I do not know what I'll do. Perhaps re-open? I do not know what tomorrow will bring. Whatever happens, we can't do anything in the face of the police," he was quoted as saying by Nord Littoral newspaper.
Other migrants can eat chicken and rice for €2 (£1.67), and drink green tea for €0.50 in Ali's 10m² (107ft²) restaurant covered with blankets. "I work here to pass my days, but I want to reach England. I try to go through every night," he said, adding: "I have only hope for law".
Authorities to dismantle Jungle northern area 'very soon'
Organisations working with the migrants, however, have questioned the motives behind the recent raid. "Its is to close friendly places to discourage migrants to stay here?" Christian Salome, president of L' Auberge des Migrants / Help Refugees (formerly Help Calais), which has been building shelters for the refugees in the camp.
Calais Mayor Natacha Bouchart, on 11 July, tweeted that the dismantling of the northern zone would be announced "very soon", which was later denied by the prefecture.
In another Tweet, the mayor said "We can't keep waiting, we need to know as soon as possible when and how the Jungle will dismantled."
However, the department's administration also said that the state has "not changed its mind about the fact that as unsanitary camp (was) a life project", according to Le Monde newspaper.
François Guennoc of L' Auberge des Migrants said 1,200 people are currently sleeping under tents in the overcrowded and unsanitary camp. The residents of the camps, at Calais and Dunkirk, constitute less than 1% of the more than one million asylum seekers who arrived in Europe by sea last year.