Norway's immigration minister has told refugees that exploited a legal loophole to enter the country on bikes through an Arctic Circle crossing will have to return to Russia. Around 5,500 asylum seekers used bikes to travel through the Storskog crossing last year.
A legal loophole means that although Russia does not allow people to cross the border on foot and Norway does not let in motorists carrying people without documents, people on bicycles are allowed in on both sides. Norway appointed its first ever immigration minister, Sylvi Listhaug, in December with promises to tackle the flow of refugees, principally from Syria.
Listhaug has announced that immigrants without a transit visa would be sent back to Russia. The two nations have been sending refugees back and forth since November 2015 when the new route was identified by authorities.
On Thursday, Norwegian police confirmed that the refugees would not be forced to return across the border on two wheels, and could instead be taken by bus. The number of people taking the Arctic route is tiny compared with the estimated 750,000 who arrived via the Mediterranean in 2015, a perilous journey that has led to the loss of at least 3,400 lives.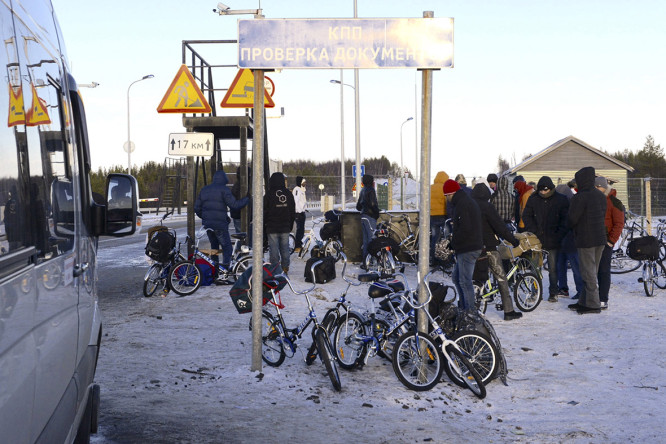 Temperatures at the border are below freezing this time of year, sometimes plummeting to -10C. Some migrants have paid $2,500 (£1,650) for an all-inclusive trip to the border, which included flying to the Russian Arctic port of Murmansk via Beirut and Moscow.
Once they reach Norway, refugees will spend time at a centre that will provide shelter for around 600 people in barracks on a former military camp bordering the airport of Kirkenes. New arrivals are given fleece jumpers, waterproof jackets and other clothes appropriate for the Arctic climate, with most sleeping in bunk beds.
Some have even enrolled in Russian schools to obtain student visas allowing them to travel to the border. Norway is not a member of the EU but is still a member of the visa-free Schengen Zone.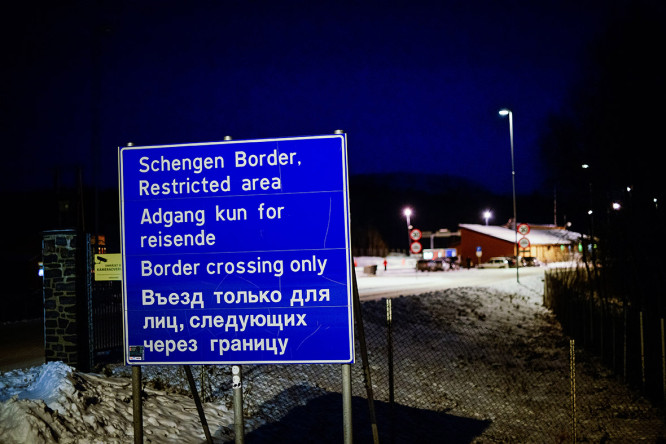 Immigration activist, Svetlana Gannushkina, said Syrians sent to Russia would not be deported but were also very unlikely to receive legal status. She told the Guardian: "They'll illegally travel around Russia, as they did before. Many refugees here are in a suspended state with no status."
Of the estimated 12,000 Syrians who are now in Russia, according to official data only 2,000 have been granted one-year temporary asylum whilst an additional 2,000 have other legal status.
Gannushkina added that just 790 people, of whom two were Syrian have been awarded permanent asylum. "What is 790 people for Russia?" she said. "That's one apartment building."