Ahmed al-Junde left his home in Daraa, the birthplace of the Syrian revolution, to reach the UK just over two years ago. Capsized in the Mediterranean and a stowaway on board a Calais lorry, his death-defying journey would cost at least €9,000 (£5,900) in smugglers' fees and it claimed the lives of his cousin and two friends along the way.
Ahmed, a former Arabic student and teacher in his native Daraa, describes the start of the 2011 revolution as a bad joke. He explained how a prank by local school children writing anti-government graffiti on a wall snowballed until government forces started shooting protesters in the street.
In 2013 Ahmed and his two cousins from the opposition city on Syria's border with Jordan were forced to leave for the same reason droves of young men have fled Syria's civil war: the fear of conscription into a hated government army that Ahmed described as a path to certain death.
He was able to pass into Lebanon and then fly on to Turkey on his Syrian passport, but it was the trek from Turkey to Greece, in the dead of night, that marked the beginning of his illegal journey to the UK.
"We left at 3 o'clock in the night. We went in a van but it was a closed van. We could not see anything. Quickly, we were put in a boat. The smugglers were Turkish. I paid €2,500 (£1,650)," Ahmed said. "Up to Turkey, we had travelled legally but from then on, we travelled illegally."
The difficult crossing, over the Aegean that has been followed by so many Syrians trying to reach Europe, was long and cramped but ultimately successful.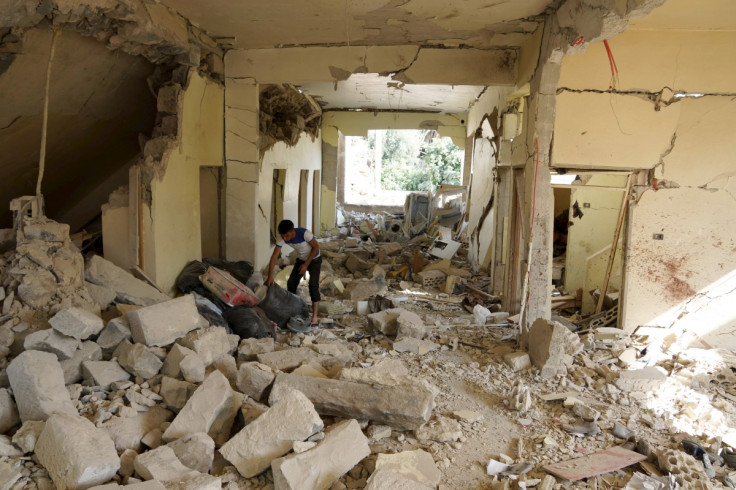 "We couldn't eat anything or drink anything. It was a wooden and iron boat. It had a small number of rooms. I believe it was a fishing boat, maybe 14 meters in size. There were 105 people on the boat," he added.
Ahmed and the other Syrians were picked up and processed by the Greek authorities and moved on to Athens. Rather than travelling north, the group decided to take to the sea again and go by boat to Italy, a route he described as common at the time. It was on this second sea journey that tragedy would befall the group.
The Syrian said he and a group of 28 other migrants were told to jump from treacherous rocks into a small wooden boat below. As the ship became over-burdened, it capsized, trapping nearly half of the group inside.
"Just two people were outside the boat and after that something happened. Some people started to make noises and the boat was turned over. Some people tried to get out, but there was still 13 persons inside. When it turned over, the rock stuck on the door and they couldn't get out. We tried to help them but we couldn't because it was too heavy," he said.
Ahmed explained that he was able to struggle up on to the rocks after he was thrown free of the boat. As time passed, it became clear that those trapped inside had drowned. The younger of his two cousins and two of his friends had perished in the disaster.
It was at this point the former teacher said he and his surviving cousin nearly turned back to Syria to return the body. "Because his brother was younger than him, he was older, and he brought him. He said to me: 'I brought him and I killed him,'" Ahmed explained.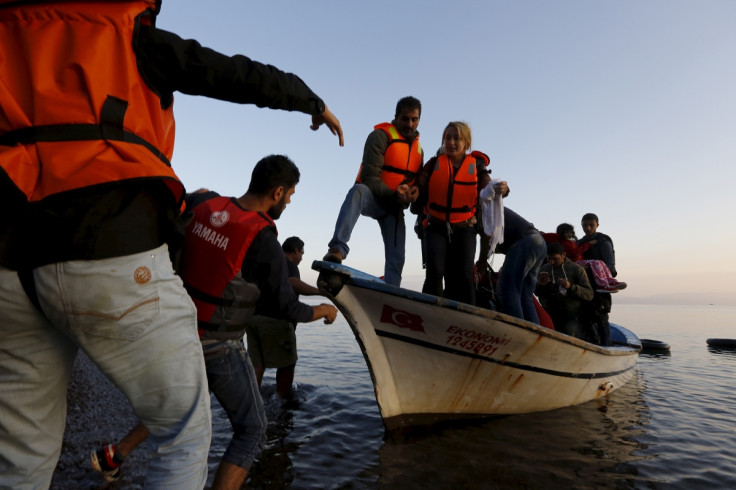 After convincing his cousin to continue on, the pair took a safer route to Italy, stowing away aboard a lorry that boarded a ferry. They were trafficked for €4,500 (£3,323).
Once they reached Italy, they made their way to Calais in three days. Ahmed reached the UK just one week after sleeping in the street in the northern French town.
He said that he was able to reach the UK by stowing away aboard a car transporter. He made it through security at the port of Calais on his first attempt after smugglers showed him a car park where he could gain easy access to waiting freight vehicles. Just a few hours later, after paying £1,300, Ahmed was in Ashford, Kent.
After applying for asylum at the Home office in Croydon, Ahmed was processed in Liverpool and Cardiff before his application was granted in Plymouth three months later. It was then he applied for his pregnant wife to be reunited with him.
It was a decision that saved her life and the life of his unborn son. As she was waiting to travel to the UK from Lebanon, Ahmed's mother-in-law, his two brothers-in-law, their children and their wives were killed in government air strikes. "It was very difficult − it felt like dying," Ahmed said.
His son was born in Lebanon, which postponed their reunion. "I stayed here and my wife stayed suffering alone in Lebanon. It was a very difficult situation and I couldn't do anything − just wait," he said.
Ahmed said his life and the lives of his young son and wife had been transformed by their refugee status in the UK but that he had never set out for the UK in particular over any other European nation.
"When I came to Europe, all I wanted was to leave the death in my country and because I wouldn't have to fight," he said.