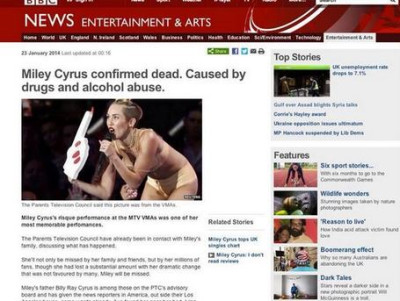 American pop star Miley Cyrus has again become a victim of celebrity death hoax.
Rumours started from a fake BBC source, claiming that the 21-year-old former Disney star, died on 23 January, because of "drug and alcohol abuse."
"The Parents Television Council have already been in contact with Miley's family, discussing what has happened," the fake report read. "She'll not only be missed by her family and friends, but by her millions of fans, though she had lost a substantial amount with her dramatic change that was not favoured by many. Miley will be missed."
Such false reports about celebrities death have started spreading across Facebook and Twitter through an app that uses logos from well-known news outlets, provoking users to click, which in-turn allows the app to hijack users' accounts.
However, Cyrus is fine and posted a photo on her Twitter account, in which she is seen dancing with three giant corn people, during rehearsal for her upcoming Bangerz tour.
"This almost gave me a ♥ attack!," she captioned the photo.
In 2008, a fake Reuters report stated that the Party in the USA singer died in a car accident. In August last year, a post was circulating on Facebook claiming that Cyrus committed suicide after traumatic stress.
The list of celebrities affected by similar hoaxes is growing all the time, and includes Reese Witherspoon, comedian Bill Cosby, Robert Pattinson, Denzel Washington, Adele, Justin Bieber and Lady Gaga.
Last year in June, Hollywood and kung fu legend Jackie Chan had himself taken to social media to prove that he is alive and still kicking.
"Hi everybody! Yesterday, I got on a 3am flight from India to Beijing. I didn't get a chance to sleep and even had to clean my house when I got home. Today, everybody called to congratulate me on my rumored engagement.
"Afterward, everybody called me to see if I was alive. If I died, I would probably tell the world! I took a photo with today's date, just in case you don't believe me! However, thank you all for your concern. Kiss kiss and love you all!" he wrote on Facebook, "P.S. My dog is healthy, just like me! He doesn't need surgery! By the way, my dogs are golden retrievers, not Labradors."