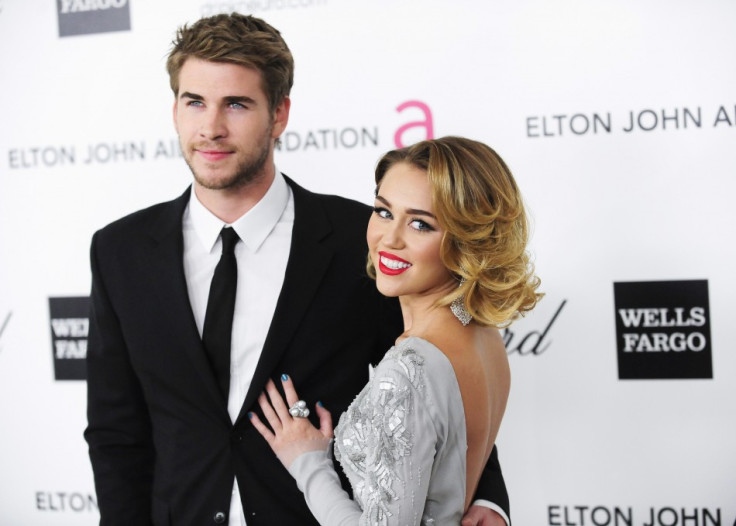 One of Hollywood's hottest couples is eager to tie the knot as soon as possible. In fact, they say they cannot wait anymore! A report in Hollywood Life states Miley Cyrus and Australian Liam Hemsworth are planning their dream wedding - and it will be in the winter.
"Miley is for sure in engagement bliss and can't wait to get married," a source was quoted as telling Hollywood Life, "She wants to pick the perfect wedding dress and is having a blast on dealing with wedding plans. Eloping has been talked about but Miley being very religious and being all about family, she wants to have a huge wedding and that will be most likely the case."
"This fall/winter is strongly being considered," the source added, "But no date has officially been picked."
The Disney star has been dating Hemsworth off and on since they met, in 2009, on the sets of The Last Song. Their relationship was declared serious when the Hunger Games star proposed to Cyrus, on 31 May, with a 3.5-carat diamond ring from jeweler Neil Lane.
"I'm so happy to be engaged and look forward to a life of happiness with Liam," Cyrus told People magazine, after the engagement was announced.
"Thank you for all the love today. I'm happy to share this news with you all. I feel like all my dreams are coming true," the young star posted on Twitter.
Unfortunately, not everyone seems to be very happy for the young couple. They face constant criticism regarding the fact they are too young to be married. Former editor-at-large for Star magazine and writer for Cosmopolitan and Men's Health Julia Allison, who was also a guest commentator for television networks like MSNBC, CNN and MTV, was quoted in a Celeb Buzz report as being doubtful about Cyrus and Hemsworth's marriage.
"Last is a relative term," Allison explained, adding, "Will they last 10 years? That would be remarkable. I doubt it. I would give it five or less. But really, [it's hard for] any celebrity relationship. I thought Demi [Moore] and Ashton [Kutcher] were going to last."