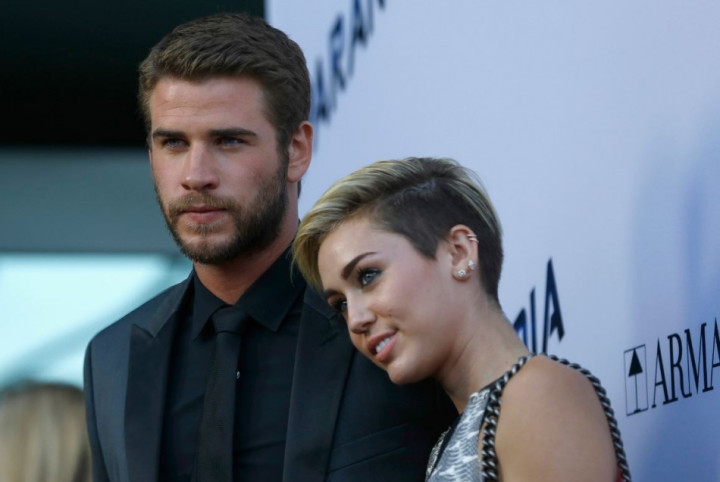 Miley Cyrus and Liam Hemsworth reportedly stayed together only because Cyrus thought she was pregnant.
"Miley thought she was expecting and wanted to announce it to the world, even before she went to the doctor to verify the results. Liam begged her not to go public yet. He was emotionally out of the romance for months by that point, though he was still sleeping with her. She agreed to stay quiet for Liam's sake," a source told celebrity blogger Perez Hilton.
"[Miley] essentially trapped Liam in the relationship, telling him that if he left her alone, she'd tell the world that he had abandoned her at such a delicate time. She begged him to stay and said that he could have his space, as long as he didn't break up with her. So Liam obliged. He got his freedom and she got the right to say they were still engaged," the insider added.
Hemsworth and Cyrus started dating in 2009, when they co-starred in the Nicholas Sparks film, The Last Song. Last year, on 31 May, Hemsworth proposed to Cyrus with a 3.5-carat Neil Lane diamond ring. The couple made their last public appearance together, at the premiere of his film Paranoia at the DGA Theater in Los Angeles. Hemsworth officially announced his split from the Party in the USA singer recently.
Meanwhile, Cyrus hinted that a track on her upcoming Bangerz album called Drive was inspired by her on-and-off romantic relationship with Hemsworth.
"I wrote it while I was working on Valentine's Day—emotionally it was such a hard time," she told Fashion magazine, "It is about needing to leave someone but not really wanting to completely cut yourself off from the relationship. It's a time when you want to leave but you can't. It's also about moving on."
Adding on, Hemsworth was recently spotted kissing Mexican actress Eiza González, at her apartment complex in Beverly Hills, California. The 23-year-old The Hunger Games star stopped by her place to give her a piece of luggage. Hemsworth and the 23-year-old daughter of former model Glenda Reyna were pictured passionately kissing after talking for around five minutes.