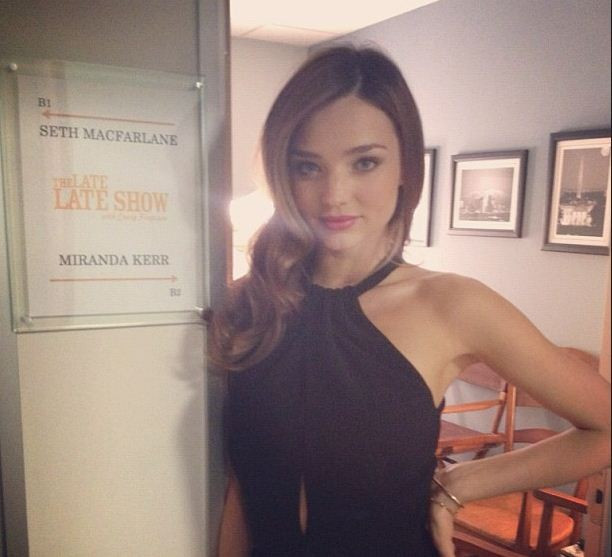 Australian supermodel Miranda Kerr revealed she takes advice from her grandmother for maintaining a happy marriage.
Kerr, who has been married to Hollywood star Orlando Bloom since July 2010 and is mother to 23-month-old son Flynn, shared the advice during an appearance on The Late Late Show with Craig Ferguson.
"My grandma said, 'Men are very visual, so don't forget that,'" Kerr revealed. "She said, 'Every day, put a little makeup on, put on some nice underwear, and you'll keep your husband.'"
The Victoria's Secret Angel, who recently led a line-up of beautiful women at the annual Victoria's Secret Lingerie show in New York, has also been named the Sexiest Woman Alive by Esquire. She revealed she gets more nervous walking the catwalk if her husband is in the audience.
"Yes, but it's different," Kerr replied. "Because I'm parading it in front of everyone else, not just him."
The 29-year-old model is thriving professionally, having recently replaced Britian's Kate Moss to be the new face of High Street brand Mango.
Women's fashion magazine Grazia won this year's Maggies Magazine Cover Awards with its patriotic issue featuring Kerr, winning Cover of the Year Award. The winning image featured Kerr dressed as Wonder Woman holding an Australian flag, accompanied by headlines in the country's iconic colors.
Chair of the Maggies judging panel Ita Buttrose said: "This is an extremely appealing cover. It has impact, pizzazz and that 'look at me' factor that all covers must have. Miranda Kerr is a great cover choice as she is a popular celebrity with appeal and especially since becoming a mother. Good cover lines. Excellent use of colour. Well done Grazia."
Finally, Kerr also revealed her plans for Christmas holidays with her family.
"For me, Christmas is a really special time, because we're together as a family," Kerr told Celebuzz in interview. "I'm not working, and it's even more special now that I have a son."
"He's just out there, and growing, and developing every minute," she said of Flynn. "It's just a really special time to be with him."