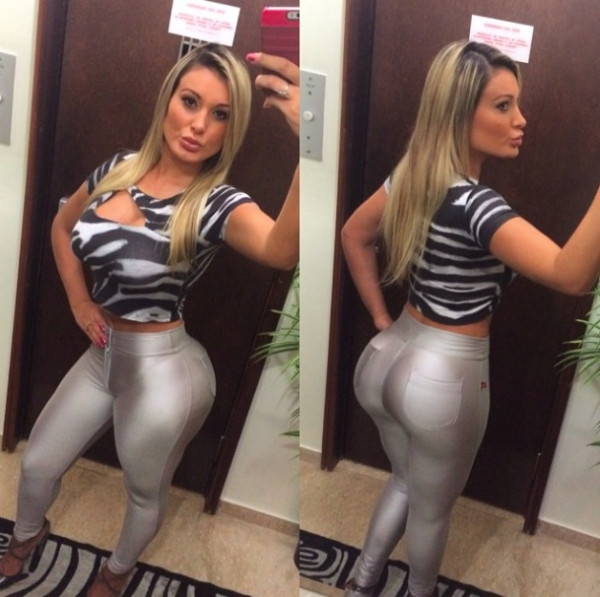 Andressa Urach, a Brazilian model and runner-up in controversial beauty contest Miss BumBum almost lost her life when plastic surgery to plump her rear went wrong.
Her body tissue began to rot, leaving her in agony and bed-ridden. Urach spent a month in intenstive care, according to a Mirror report.
Medics thought they would need to amputate Urach's leg when hydrogel and PMMA fillers injected into her buttocks were removed. This triggered septic shock, which can cause multiple organ failure. The mortality rate from septic shock is approximately 25–50%.
The 27-year-old is said to have had at least nine cosmetic surgery procedures in the last five months. They include a nose job, a bioplasty facial "correction," jaw reduction, breast enlargement, liposuction and also vaginal lip reduction.
To enhance her derrière, the Miss BumBum runner-up wanted to make it rounder and plumper.
However, she complained of discomfort to doctors and had 400ml of hydrogel drained out of her upper thighs.
She told Brazil's R7 website at the time: "The hydrogel was not absorbed by my body and started to harm me.
"Now I've discovered that the PMMA is sticking to my muscles and causing the tissue to rot."
in November, her condition worsened and she was admitted to the Conceicao Hospital in Porto Alegre, Brazil, with an advanced infection of her left leg.
She had two unsuccessful drainage procedures, before suffering from septic shock and being placed in intensive care.
Fellow Miss BumBum contestant Jessica Lopes and Urach's former flatmate said: "Andressa and I would go to the plastic surgeon as if we were going shopping.
"Sometimes we would agree to do some procedure together, we were not afraid.
"We were slaves to beauty."
Urach claimed she once had an affair with footballer Cristiano Ronaldo, which was categorically denied by the Portuguese player.
His Facebook page said he was "deeply outraged" by the allegation. He attacked the Brazilian model for creating "pure fiction and forgery" and "seeking the limelight on my account".
Miss Bum Bum contest is a nationwide annual undertaking to find the best behind in Brazil.