Missing Malaysia Airlines Flight MH370: Search Plunges into Chaos as Minister Denies 5-Hour Theory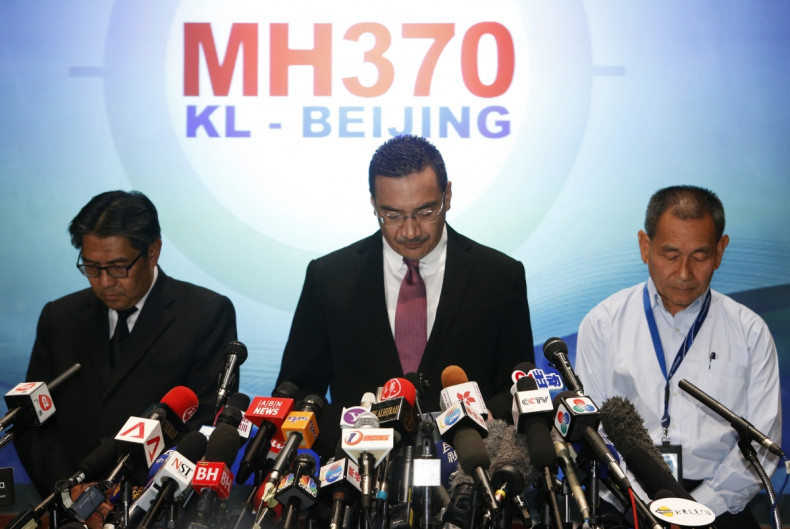 Malaysian Transport Minister Hishammuddin Tun Hussein has denied reports that the engine data from missing Malaysia Airlines MH370 revealed that the aircraft continued to fly for another four hours after it was last detected.
"The reports are inaccurate. The last transmission was at 0107 local time which indicated that everything was normal," said Hussein.
"Whenever there are new details they must be corroborated. Rolls Royce and Boeing believe these reports are inaccurate."
The Transport minister also refuted claims that satellite images of debris from flight MH370 were authentic.
"We contacted the Chinese embassy and they confirm that the images were released by mistake and did not show debris from MH370," he continued.
Hussein then defended Malaysia's response to the crisis after criticism was levelled at their search and rescue operation.
"This situation is unprecedented. More than 80 ships and aircraft have been dispatched. This is a crisis situation, it is a complex situation and it has not always been easy.
"Our focus has been on finding the aircraft. We have not done anything that could jeopardise the search effort. There have been times when we could not disclose information that could have compromised the investigation.
"Malaysia has nothing to hide, we have spared no expense or effort. We have accepted all international offers for help. We have followed all protocols since the incident began," he concluded.
42 vessels and 39 aircraft have now been deployed by twelve different countries in the Strait of Malacca and South China Sea in an attempt to discover the reason for the aircraft's mystery disappearance.
After reports that Vietnam is scaling down its efforts in the search and rescue operation, Hussein pledged that the operation will continue until the plane is found.
FLIGHT MH370 FACTBOX
Flight MH370 took off from Kuala Lumpur International Airport en route to Beijing at 00:41 on Saturday 8 March (16:41 GMT Friday).
About 50 minutes later, the aircraft lost contact with air traffic control.
No distress call was made.
On board, there were 12 Malaysian crew members and 227 passengers from 14 countries. That included 153 Chinese and 38 Malaysians.
Two Iranian male passengers, Pouria Nour Mohammad Mahread and Delavar Syed Mohammad Reza, were travelling on fake passports. Neither had any apparent links to terrorist groups.
No debris from the plane has been found in the international search.
At least 10 countries, including China, the US and Singapore, were using a total of 42 ships and 39 aircraft to search for the missing plane in the South China Sea, the Malacca Strait and the Andaman Sea.