Mock executions and thousands of protesters greet Iran's President Rouhani in Paris
Thousands of people took to the streets of Paris and even staged mock executions to protest about the visit of Iranian President Hassan Rouhani.
The demonstration, which took place at Place Denfert-Rochereau on 28 January, was described by one attendee as vibrant, as Iranians and human rights activists waved flags and banners, chanting anti-Rouhani slogans and demanding an end to executions in the Islamic republic.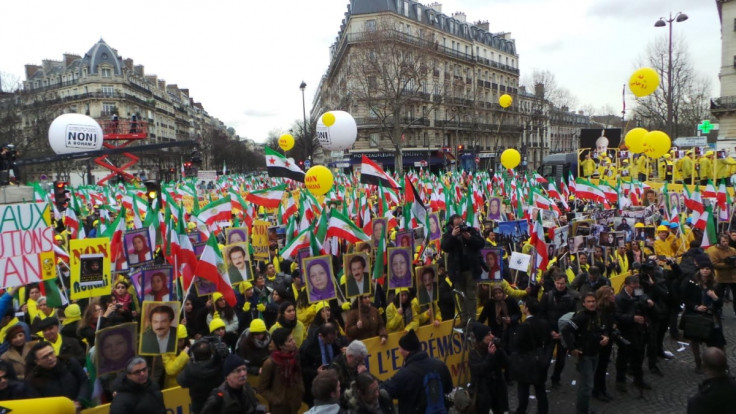 Thousands gathered to protest about Rouhani's visit
NCRI
Among the spectacles at the massive demonstration was a platform of people who acted out hangings to symbolise the thousands of executions that have taken place while Rouhani has been in power.
Maryam Rajavi, president elect of the Iran resistance said: "Rolling out the red carpet for Rouhani by European governments is to welcome the godfather of terrorism and fundamentalism, to legitimise the regime and its most repressive factions.
"It is also to the detriment of human rights in Iran. Welcoming Rouhani will only embolden this regime in the torture and execution of the Iranian people, further warmongering in the region, especially in Syria, and export of Islamic extremism and terrorism."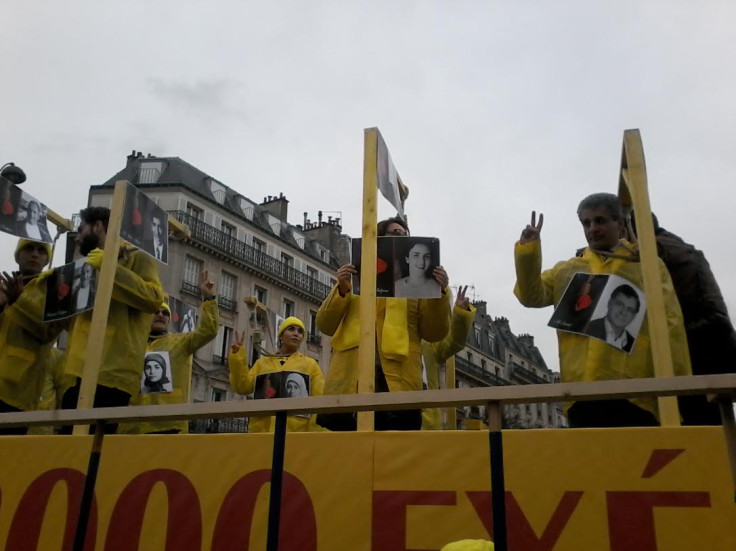 Mock executions took place as activists demanded an end to capital punishment
NCRI
Rajavi was joined at the gathering by Gilbert Mitterrand, president of France Libertés Foundation and son of the late president Francois Mitterrand; Algerian former prime minister Sid Ahmed Ghozali; José Bové, member of the European Parliament from France; Rama Yade, former French secretary of state for human rights; and French lawyer and jurist Henri Leclerc, among others.
Michel Kilo, a member of Syrian opposition, and Marzieh Babakhani, a member of PMOI/MEK Central Council, were among the speakers at the rally, while Gérard Lauton read out parts of a letter from leading French unions to the French president and foreign minister in protest to Rouhani's trip.
Rouhani's visit to France and Italy, his first to Europe in 16 years, has already made headlines, not least because the Iranian president has secured an estimated $18bn (£13bn) of deals with Italy, with aviation agreements expected with French companies too.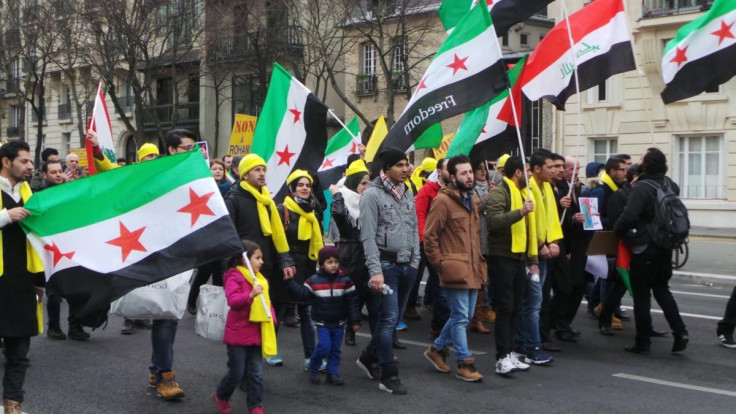 People waved flags as they marched in Paris
NCRI
His visit comes weeks after crippling economic sanctions on Iran were lifted, paving the way for the country to increase oil exports and further trade with the US and EU.
Shahin Gobadi of the Foreign Affairs Committee of the National Council of Resistance of Iran (NCRI) said: "Thousands of Iranians came out today to soundly expose Rouhani's façade. Their message was that Rouhani is only a functionary of the religious fascism that is loathed by the Iranian people.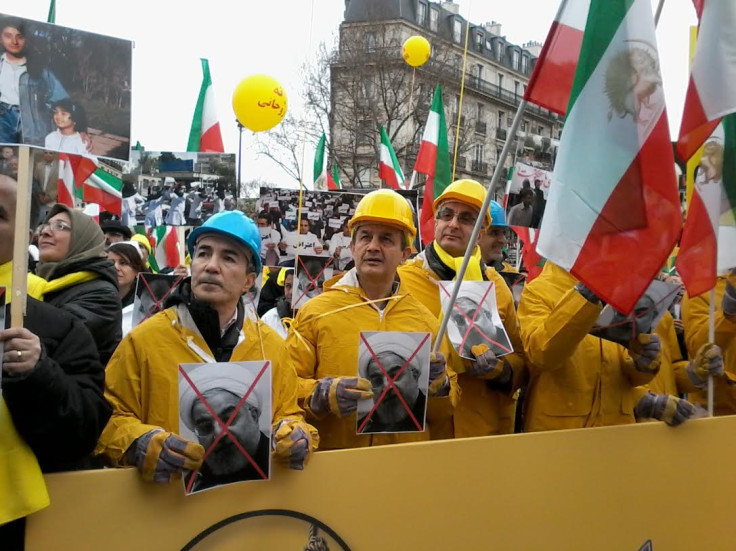 Demonstrators in the French capital protest the visit of Rouhani
NCRI
"His record includes more than 2,000 executions, full-fledged support for Bashar Assad's massacre of the Syrian people and support for international terrorism. This clearly shows his true colours."
Watch footage of the demonstration here
© Copyright IBTimes 2023. All rights reserved.