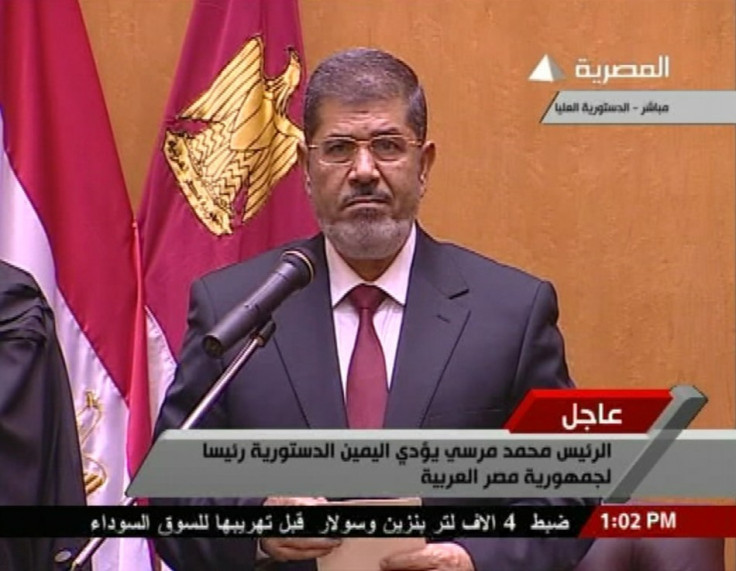 Egypt's newly elected President Mohammed Mursi was officially sworn in as the first civilian, democratic head of the nation in a historic ceremony in Cairo on Saturday.
Mursi, who represented the Muslim Brotherhood, in the presidential run-off took the oath of office before the Supreme Constitutional Court.
Mursi promised to protect all Egyptians and to respect the constitution and rule of law in his speech, made in front of thousands of supporters.
Earlier, Mursi's campaign said he would include a woman and a Coptic Christian as his vice-presidents.
However, the relations with the country's ruling Supreme Council of the Armed Forces (Scaf), remained to be cause of concern for the new president.
The Muslim Brotherhood dominated parliament was dissolved by the army ahead of the election results and the Scaf also stripped the presidency of many of its powers.
The army earlier indicated to the Egyptian media that the head of Scaf, Field-Marshal Hussein Tantawi, would remain as defence minister under the new president.
"I promise you that I will not give up on any of the powers given to the president," Mursi told his supporters.
"The revolution must continue until all its objectives are met," he asserted.
In a speech mixed with pragmatism and populism, the US-educated Mursi said he would work towards the release of militant Islamist Omar Abdel-Rahman, detained in the US over the bombing of the World Trade Center in New York in 1993.
"I am reassured, thanks be to God and to you. I fear nobody but God," the BBC quoted Mursi as saying while lifting his jacket to show the people that he was not wearing a bullet-proof vest.
Mursi also promised to introduce measures to lift the ailing domestic economy and promised to work towards better relations with foreign countries.
Mursi will address a gathering at Cairo University before going to the army base for the official handover of authority.