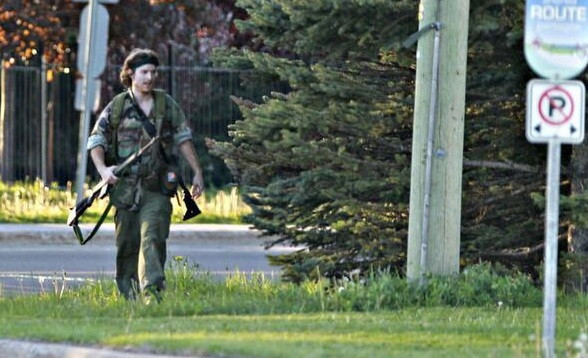 Canadian police have arrested Moncton killer Justin Bourque, ending a more than 24-hour search for the man who shot dead three police officers.
The Royal Canadian Mounted Police (RCMP) confirmed in a Twitter message the 24-year-old gunman, who was believed to be armed and on the prowl after the gruesome killing of the officers on Wednesday, was arrested around 12:10am local time.
"Justin Bourque arrested by RCMP at 12:10 in Moncton. He is in police custody. Residents of north Moncton can now leave their homes," an official tweet said.
The RCMP did not reveal further details on the circumstances of Bourque's arrest, but local media carried eyewitness accounts.
The Toronto Star quoted an eyewitness as saying Bourque was caught alive and did not resist arrest. He put his hands up saying "I'm done" as he was taken into custody.
"They had him in front of my window that I was looking out. I saw him clear as day ... and we can pretty much confirm 100 per cent it was him," Michelle Thibodeau, an eyewitness, told CTV News.
Canadian police had launched an intense manhunt soon after the shooting in the city of Moncton, New Brunswick, on Wednesday evening, and identified the suspect as Bourque. The RCMP had also released a photograph of the armed suspect moving into the woods after the shooting.