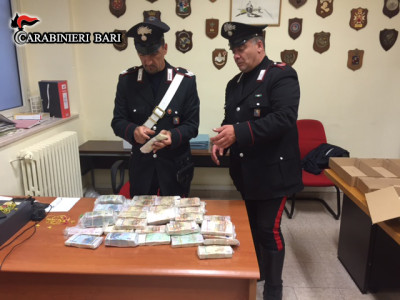 Sometimes it rains money and in Bari, southern Italy, on 26 May it rained a lot - €620,000 (£440,000, $675,000) to be exact, according to local authorities.
The vast amount of cash was literally thrown out of the window by a 52-year-old man who is now under investigation for money laundering.
The bizarre gesture was sparked by Carabinieri police that unexpectedly arrived at the man's home in the Ceglie del Campo district to search the premises as part of an unrelated probe.
As soon as the officers entered the first floor flat, the suspect, who has not been named, tossed two bags out of a widow with a "lightening move", Carabinieri major Rocco Truda told IBTimes UK.
The suitcases, which fell into a neighbour's garden, were filled with notes of different denomination, carefully divided in 62 stashes wrapped in cellophane.
"He didn't provide any explanation for it," Truda said.
The man, who was known to authorities, has been placed under investigation but was not arrested. The money has been seized.
Carabinieri said they couldn't disclose the reason they first visited the flat, pending an inquiry.