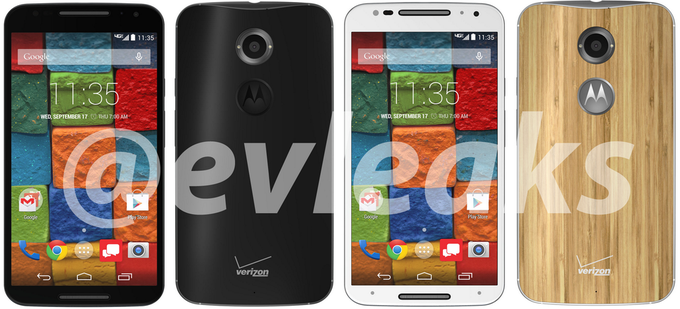 Two weeks ahead of its launch, images of Motorola's Moto X+1 have leaked. These images appear to be extremely authentic and offer a solid idea of what Motorola's next flagship smartphone will look like.
The images come from US journalist Evan Blass, (aka @evleaks), who recently retired with these images coming as a "retirement gift".
The images suggest that the phone's rear camera doesn't have a flash set up around it. Instead, a source has told PhoneArena that there are two small flashes on either side of the lens in the ring around the camera.
Apart from this, the speaker on top of the phone is slightly wider than the one on the bottom. However, there is still a good chance that the phone will sport stereo speakers on the front.
A nice touch from Motorola happens to be the placement of the power and volume buttons, both of which have been moved down the side of the phone body. This will make them easy to reach despite the phone's large body.
In related news, another report points out that Verizon's Messages app will come pre-installed in the phone. However, it won't be baked into the Moto X+1's system, meaning that you will be able to uninstall the app if you want to.
For the uninitiated, the Moto X+1 is rumoured to feature a Snapdragon 801 chipset, 2GB of RAM, 32GB of internal storage and a microSD card slot. It will also feature a 5.2in 1080p display. Read more about the entire spec list here.