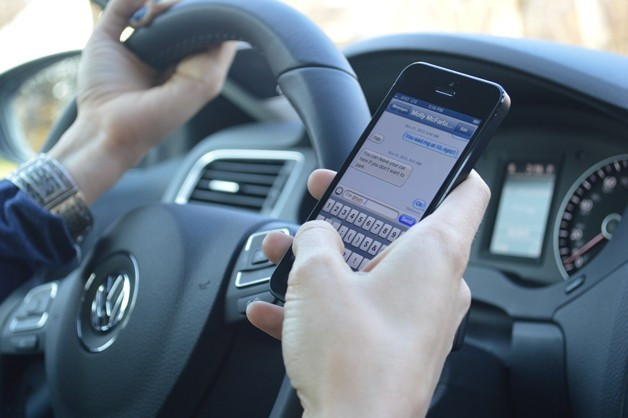 Motoring campaigners have voiced concerns that police are looking the other way when motorists use their mobile phone at the wheel of a car after statistics have revealed that the number of drivers fined for the offence fell sharply last year.
Around 17,000 people got a £100 fixed-penalty notice for driving while using a phone, a 43% drop on the year before, and down from 123,000 five years ago.
Pete Williams, road safety spokesman at the RAC, said the fall was not due to motorists abiding by the law, but rather that people were getting away with driving while distracted.
"The figures lay bare the scale of the handheld mobile phone epidemic that has been allowed to sweep the country largely unchallenged. The problem of illegal handheld phone use at the wheel is undeniably getting worse, with fewer and fewer people being caught."
There were 22 fatalities last year due to mobiles at the wheel. In September of this year, a van driver was jailed for killing a cyclist while reading a text message.
Six weeks earlier, Christopher Gard, 30, from Alton in Hampshire, had successfully pleaded with magistrates not to disqualify him.
Motorists caught using a handheld phone get three penalty points and a minimum fine of £100, but this will be increased to six points and £200 from 2017.
Chief Constable Suzette Davenport, of the National Police Chiefs' Council, said: "Like drink-driving, we have to work towards changing people's attitudes.
"We measure success not only in terms of the number of offenders caught, but also by driving behaviours changed. This problem cannot be solved by enforcement alone."
But government statistics released on Thursday (27 October) suggest depleted police forces are no longer willing or able to enforce the rules.
Road safety charity Brake said police were under-resourced to stop offences with spokeswoman Lucy Amos saying: "Research has shown this to be a rapidly growing problem on the roads, but this is not reflected in the number fixed penalty notices issued for mobile phone use in the figures released today.
"Instead, these figures are evidence of the lack of resources and manpower available to the police."