Motorola has started rolling out the Android 4.0.4 (Ice Cream Sandwich) for Razr XT910 and Razr Maxx as Over-The-Air (OTA) update.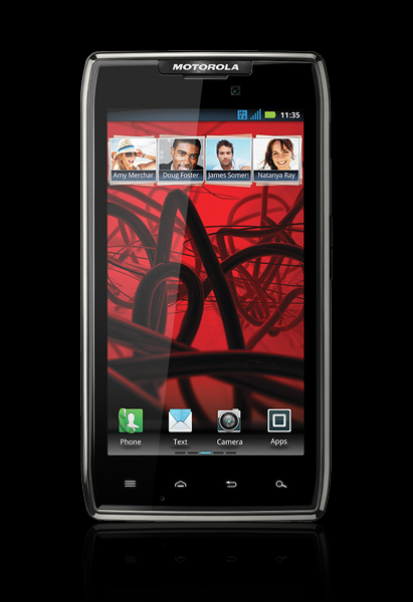 The Android Central reports the update has been reportedly pushed out "to select users" which is expected to be made available broadly in "the coming week." Motorola posted about the ICS update on its European Facebook page, according to reports.
The ICS update for Razr smartphone will come with a revamped lock screen and launcher along with visual changes. "Apparently, the hold-up was due to T-Mobile refusal to sign off on the update because they wanted to customise the ROM on the phone to their liking, something that Google did not allow as Motorola is now owned by Google," explains GSMArena. "Eventually T-Mobile relented and signed the update so now everyone can get their hands on it," site claims.
According to GSMArena, a photo of the update suggests that the update weighs about 153.3MB and users are advised to download it via 3G or Wi-Fi connectivity. Users can manually check for the ICS update by heading to Settings > About phone.
In June, Verizon rolled out the ICS update for Droid Razr and Razr Maxx. The update include a revamped lock screen, slightly changed home screen launcher and face unlock. This time GSM users of Motorola smartphones will be able to get a taste of Android 4.0.4 on their device.
The Razr with the model number XT910 was announced back in October. It boasts of a 4.3in Super AMOLED capacitive touchscreen. The device is powered by dual-core Cortex-A9 processor, clocked at 1.2GHz. It comes with internal storage of 16GB and a microSD card slot with an additional memory space of 32GB. It packs a decent battery of 1780mAh which provides standby time of up to 304 hours and talk time of up to nine hours 20 minutes.
Back in May, Razr Maxx went on sale in UK. Powered by dual-core processor the device packs a powerful Li-Ion 3300mAh battery that allows standby time of up to 607 hours and talk time of up to 17 hours 40 minutes.