Not long back X-Men actress Olivia Munn was in a relationship with NFL quarterback Aaron Rodgers. While the pair's split came as a shock, fans were once again taken aback recently when it emerged that the 37-year-old actress was dating the newly single Chris Pratt.
The Guardians of the Galaxy star, who ended his 8-year-long marriage to actress Anna Faris in August 2017, was said to have been "secretly" dating Munn. Tabloid reports even went on to dish on their so-called dinner dates, suggesting that the pair were "totally romantic".
But as it turns out there's "0% truth" behind these rumours and the explanation comes right from the horse's mouth. Sharing a series of cryptic messages and screenshot via Instagram stories, Munn not only debunked the reports but also made it clear that there's no bad blood between her and Faris.
"Hey there! Sooo... I would never respond to random tabloid stories, but since we know each other I wanted to reach out to you personally to tell you the story about me and Chris dating has 0% truth," the Newsroom actress shared in a text to Faris.
She explained, "I'm sure you already know it's not true, or maybe didn't care either way, but I just wanted to reach out personally to tell you it's not true. Anyway, I hope you had an amazing holiday and an even better 2018."
Interestingly, The House Bunny star too seemed unfazed by the whirlwind rumours of her ex-husband dating Munn.
"Hi!!!! Oh my god-this town is so f*****g crazy - you are so sweet to text - I love you-having said that if you were my new sister in law I would be thrilled! – let's please catch up soon," Pratt's ex, wrote in response to Munn's text.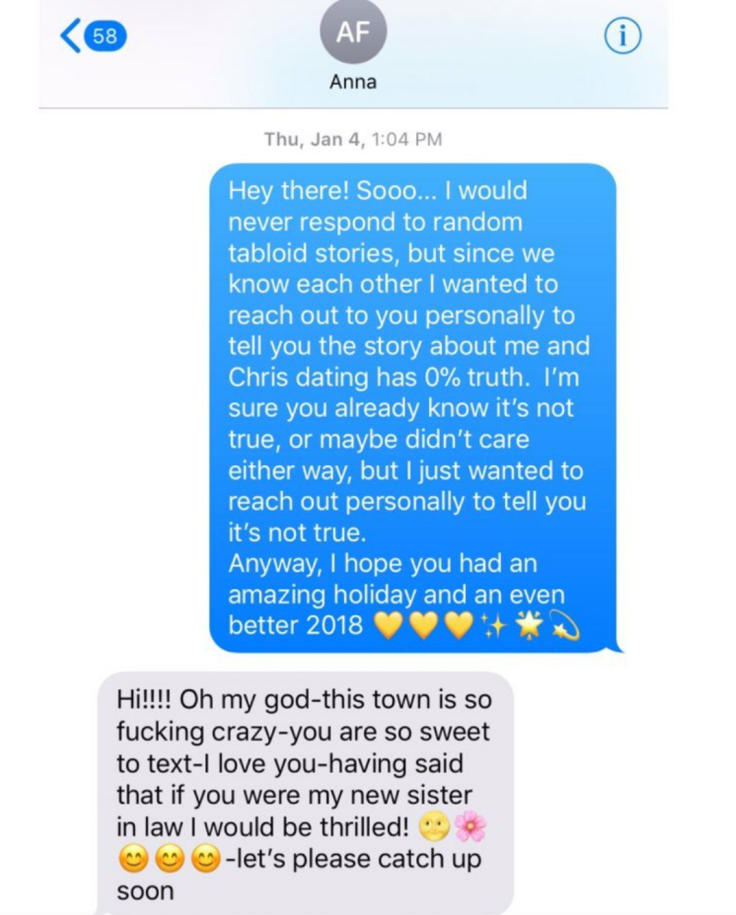 While the text message was enough to clear the air, Munn went on to share a couple of other posts as well, calling out the gossip stories that have been circulating about her and Pratt.
"Not every woman is scorned and upset after a breakup," she shared.
"Not every woman is 'furious' at another woman for dating her ex.
"So even if I was dating @prattprattpratt, some tabloids got me and @annafaris all wrong.
"Women respect and love each other a lot more than some people like to think.
"Chris and I would have a horrible celebrity name: Crolivia, Prunn, Chrisivia, Olipratt."
Pratt and Faris, who are parents to 5-year-old son Jack, have been separated since August last year. And this definitely is not the first time the Jurassic World actor has been linked to someone else – rumours about him and Jennifer Lawrence have been rife for quite some time now.