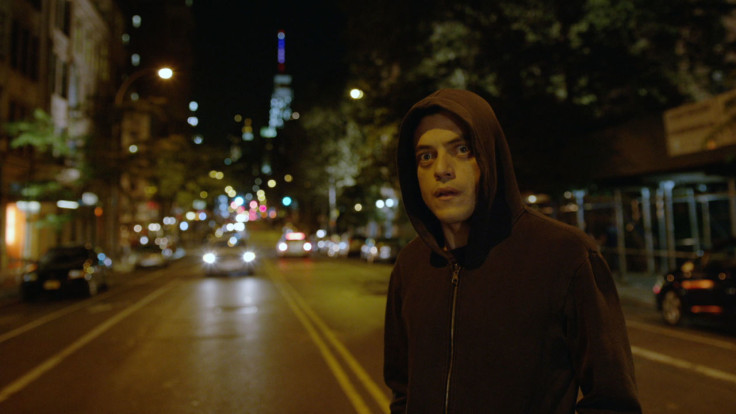 The season 2 pre- finale of Mr Robot will air on Wednesday (7 September) at 10pm EST on the USA Network. The two-hour episode titled, eps2.9_pyth0n-pt1.p7z and eps2.9_pyth0n-pt2.p7z, will find FBI closing in on Elliot Alderson, Darlene and Angela Moss.
Click here to watch Mr Robot via live stream on the USA Network. You can also watch the episode online in the US by clicking here.
In the previous episode, Angela was confronted by FBI agent Dominique DiPierro over her involvement with the All Safe hack. While, Elliot went back to his old place and was greeted by Tyrell Wellick's wife, Joanna. Further, Darlene found out that Stage 2 was Elliot's plan all along and the episode ended with someone knocking on her door.
Did Angela reveal all to Dom? Is Tyrell Wellick alive? Who knocked on Darlene's door? All the questions will be answered in this Wednesday's episode.
The official synopsis for the upcoming episode reads as follows:
The latest promo for the episode opens with Joanna trying to get intimate with Elliot and she asks him, "Do you really want to say no to me?" Then Darlene is heard saying, "It's Elliot! He is the one with the plan."
The video jumps to Elliot going somewhere with his alter-ego Mr Robot. Elliot asks him, "How do you want to handle this?" To which his alter ego replies, "Do you ever need a sign that your work is not over yet? This is it!"
This is followed by FBI agent Dom saying, "We have fresh evidence on this guy, let me go get him." The promo ends with FBI raiding Elliot's house.
To know whether Elliot is busted, watch Mr Robot at 10pm EST on the USA Network.