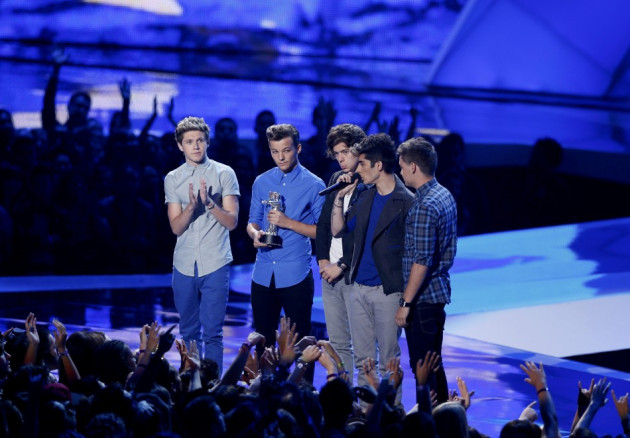 British boy band One Direction enjoyed a memorable night at the 2012 MTV Video Music Awards (VMA) in Los Angeles, California, walking away with three awards on their debut. The teenagers romped to their awards outshining global icons and veterans like Rihanna and fellow teen sensation Justin Bieber. The band won awards for Best Pop Video, Best New Artists and Most Share-worthy Video, for debut single What Makes You Beautiful.
The band rose to fame after participating in the seventh season of reality television show X Factor, in the UK, and created history in March, when they became the first UK group to record a number one for their debut album - Up All Night - in the Billboard 200 chart.
"To win one Moonman (the VMA award) is amazing, to win two is incredible," band member Harry Styles said, when they received their second award of the night.
"Thank you so much! We have grown up watching this show and to collect one of these straight away is incredible," an excited Niall Horan added.
Soon after they received their third award of the night, the band started trending on Twitter, as fans rushed to congratulate them. Charmed by the messages, the band members tweeted back.
"Guys what the hell! You are incredible, 3 vmas ! We love u all soo much! All 3 of them are for u! Thank you!" Horan tweeted.
"Wow can't believe we won three awards ! I said it on stage but i'll say it again! The awards are because of you guys , thank you everyone !" Louis Tomlinson wrote.
The other members of the band are Zayn Malik and Liam Payne.
Meanwhile, check out the list of winners at the 2012 MTV VMA
Winners:
Video of the Year: Rihanna for We Found Love
Best New Artist: One Direction
Best Female Video: Nicki Minaj for Starships
Best Male Video: Chris Brown for Turn Up The Music
Video with a Message: Demi Lovato for Skyscraper
Best Hip-Hop Video: Drake feat. Lil Wayne for HYFR
Best Rock Video: Coldplay for Paradise
Best Pop Video: One Direction for What Makes You Beautiful
Best Electronic Dance Music Video: Calvin Harris for Feel So Close
Most Share-Worthy Video: One Direction for What Makes You Beautiful
Best Choreography: Chris Brown for Turn Up the Music
Best Editing: Beyonce for Countdown
Best Visual Effects: Skrillex for First of the Year (Equinox)
Best Cinematography: M.I.A. for Bad Girls
Best Art Direction: Katy Perry for Wide Awake
Best Direction: M.I.A. for Bad Girls
For the full list of winners and details about performances, click here.