A painting made of brass and silver that officials are calling a "rare" artefact has been discovered at the Church of the Nativity in Bethlehem. The relic was found during restoration of the ancient site.
The painting is said to be centuries old but its exact dating is not yet known. Officials said the artefact was "of great religious and historical value".
The artefact was discovered under the plaster of a church's wall. It is made of silver, brass, stones and shells, Ziad al-Bandak, a Palestinian presidential adviser for Christian Affairs said, according to The Times of Israel.
Bandak said that the image of the painting will be released for the public only after it has been researched well. The painting is being examined to know about its origins, dating, artist or what images it represents and how it landed under the plastered wall of the church, located 10km south of Jerusalem.
The Church of the Nativity, which is supposedly located on the spot believed to be the birth place of Jesus Christ more than 2,000 years ago, is being renovated at an estimated $8m (£5.7m approximately) cost after years of neglect. Bandak said an additional $11m will be needed for the complete face-lift of the holy site.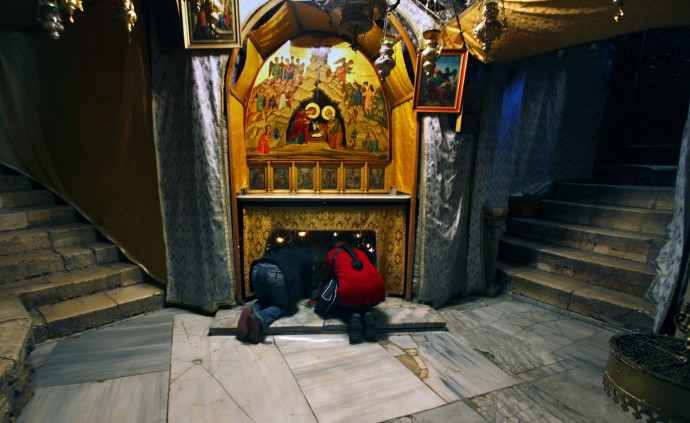 The site was inscribed on Unesco's list of World Heritage Sites in 2012. According to Unesco, a church was first completed at the site in 339AD and the edifice that replaced it after a fire in the 6th century retains elaborate floor mosaics from the original building.
The church as well as the pilgrimage route to it suffered damage due to water leaks. Palestinian authorities began the restoration work in 2013 and the initial phase of the project was completed recently.
"The removal of centuries of dust has left mosaics sparkling in the sunlight filtering through brand new windows," Bandak said. "Structural repairs on the fragile rooftop and windows have been completed and artistic treasures have been returned to their delicate elegance."