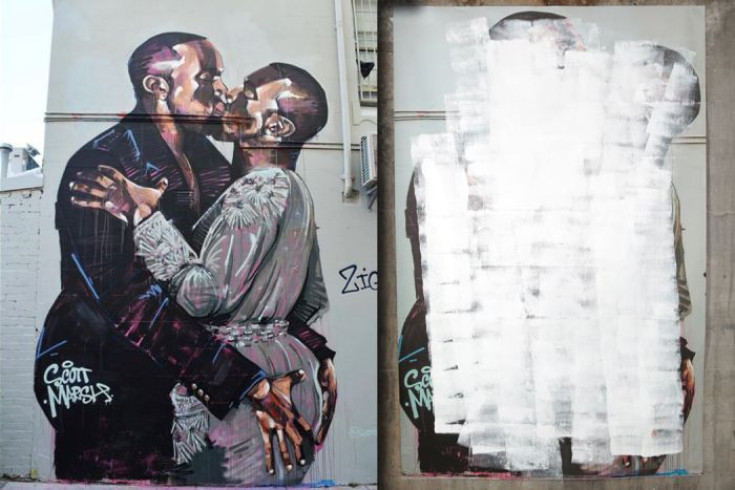 An Australian artist has reportedly sold a modified version of a Kanye West mural for $100,000 to a mystery buyer, prompting speculation that the artwork – towering above ground level on the side of a building in Chippendale – was purchased by the rapper after he failed in attempting to pay the artist to paint over it.
Scott Marsh – the artist responsible – painted a picture of rap superstar West kissing himself in March 2015. It was instantly thrust into the limelight following continued media hype surrounding the release of Kanye's seventh studio album, The Life Of Pablo.
According to ABC, on Saturday 9 April, Marsh (pictured below) announced on social media that he had sold a one-off print of the artwork – taking up the surface area of one side of a building based on Teggs Lane – for the specified amount. At the same time, he revealed he was on route to The Lord Gladstone, a bar in the same area, to "drink from the top shelf" in celebration of the mystery purchase.
The sale of the print has prompted speculation that West himself was the mystery buyer, after the rapper offered Marsh a "pretty decent chunk of money" to paint over the wall on 30 March. Marsh said that he would comply and remove the artwork if the US rapper paid a six-figure sum and "a lifetime supply of 'Yeezy Boost Signature Trainers". After the conditions were not met, he released a one off 'buffed' edition of the print – for the price tag of $100,000 – through street art website 1xRun

Marsh, pictured below, told the Daily Mail that he's a huge fan of West and hoped he'd like his artwork, saying: "This is the first piece of mine to receive a large amount of international attention… I suppose if Kanye really loves Kanye as much as everyone says he does, Kanye-on-Kanye action would be right up his alley."
The large outdoor artwork, measuring in at 20 foot high, shows West embracing and passionately kissing West. The mural is based on an image of the Yeezus producer embracing wife Kardashian on the red carpet during The 2016 Grammy Awards in Los Angeles, which was altered to show West kissing West, reports The Telegraph.
The painting had originally followed a similar style of artwork in the Australian capital a week earlier, depicting a naked image of West's wife Kim Kardashian, that had been created by street artist Mark Wells.