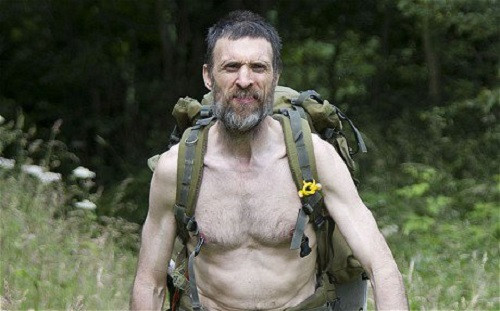 The 'Naked Rambler' Stephen Gough, from Eastleigh in Hampshire, has been jailed for 16 months for breaching an antisocial behavioural order (Asbo) designed to prevent him from appearing naked in public.
Gough, 54, was not allowed into Winchester crown court to address the jury because he refused to put on any clothes. He was however permitted to appear naked as he was sentenced on Monday.
Recorder John Williams told Gough that his persistance would lead to repeated imprisonment.
"I'm afraid there is going to be a revolving door in and out of prison, because you are intent on flouting these orders and there is absolutely no way you are going to comply with them."
Williams added: "Your refusal is that you genuinely feel that it is some way in breach of your rights, but unfortunately the courts are of the view that they are not.
"I would like to hope that when you leave prison you will not leave in the state that you are today, but I know that is a vain hope."
Williams had also offered Gough clothes so he could hear the verdict – but he declined and was held in a cell during his brief trial.
Simon Jones, who opened the case for the prosecution, said Hampshire police had applied for the asbo after receiving more than 33 complaints from members of the public who had witnessed Gough nude in the streets.
In his police interview, Gough protested that the Asbo "didn't make sense." The civil order banned him from exposing his genitals and buttocks in public - with the exception of being in a changing room, during a medical examination or on a nudist beach.
He added: "I don't think there is anything shameful about what I am. It is going against what is reasonable."
Southampton magistrates court issued Gough an Asbo on August 13 last year, which Gough broke when he was spotted wearing nothing but socks, boots and a rucksack.
Gough has been convicted several times in Scotland, where he was repeatedly arrested during attempts to walk naked from Land's End to John o'Groats.