Sex crimes committed on children and teenagers by Australian-born "national treasure" Rolf Harris were so serious he could die in jail.
The disgraced painter, presenter and singer, who for 60 years was one of Britain's best-loved entertainers, was found guilty on all twelve charges at Southwark Crown Court. Among his crimes were sexual assault on a girl aged seven or eight, and also a friend of his daughter when she was 13. Although released on bail he will be sentenced on Friday and Mr Justice Sweeney said a jail sentence for the 84-year-old was inevitable. The NSPCC claim dozens of other women had now come forward claiming to have been abused by the celebrity - nicknamed "the Octopus".
The former presenter and sport commentator Stuart Hall, also 84, who was convicted of similar crimes to Harris, had his 30-month sentence doubled at the court of appeal in May 2014, meaning he will serve a minimum of five years in prison. Hall was also stripped of his OBE in October 2013. His sentence was increased because he made his victims testify in court, as did Harris.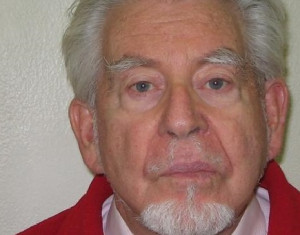 Outside Southwark Crown Court Detective Chief Inspector Mick Orchard said: "Rolf Harris has habitually denied any wrong doing, forcing his victims to recount their ordeal in public. He committed many offences in plain sight of people as he thought his celebrity status placed him above the law."
Harris, who famously painted the Queen in 2005, will probably be stripped of the CBE he was awarded in 2006, the title of Officer of the Order of Australia he received in 2012 and a spokesman for the British Academy of Film and Television Arts confirmed he will be stripped of his BAFTA Fellowship.
"The British Academy of Film and Television Arts (BAFTA) has made the decision to annul the BAFTA Fellowship bestowed upon Rolf Harris in 2012 following his conviction," the spokesman told The Mirror.
Meanwhile the Crown Prosecution Service (CPS) said Harris's conviction demonstrated that pursuing cases of historical sex allegations is justified. In a statement Jenny Hopkins, the CPS Deputy Chief Crown Prosecutor said: "The prosecution of sexual offences is often difficult and complex, perhaps even more so when the allegations are from some years ago. We will continue to consider cases and wherever there is sufficient evidence and it is in the public interest, we will work with police and victims to build strong cases which can be put before a court. I hope today's verdict provides other victims with the courage and confidence to come forward no matter who is alleged to have carried out the abuse and when."