Navy denies rumours sailor has been charged for shooting at Chattanooga gunman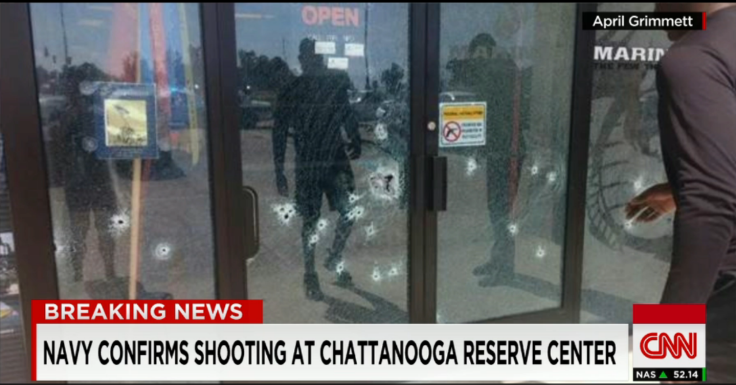 The US Navy has clarified the rumours circulating that it was punishing the lieutenant commander who shot back at the Chattanooga gunman using an unauthorised weapon. Rumours circulated that the sailor, identified as Lieutenant Commander Timothy White, was allegedly charged with illegally discharging a weapon on federal property.
The Navy released a statement that it has not charged any service members with an offence. "Stories of Navy personnel being charged with an offence are not true," the Navy stated. "There is still a long way to go in reviewing the facts of this tragic incident, but at this time we can confirm no service member has been charged with an offense."
According to Fox News, US military personnel are not permitted to carry weapons inside military recruiting and reserve stations. Following the 16 July mass shooting by an extremist, which left five military members dead, the ban on weapons is being debated.
Democratic presidential contender Jim Webb appeared to confirm that the Navy was considering charging White. In a series of tweets, Webb criticised the Navy for potentially charging the lieutenant.
"Navy charging LCDR Tim White w/ a crime for trying to defend our sailors & Marines in #Chattanooga? He deserves a medal, not an indictment," the former Marine infantry officer tweeted on 1 August.
On 2 August, he followed up with: "Before tweeting last night, we confirmed with a defence official that the Navy was seriously considering charging LCDR Timothy White. The charge being considered is illegally discharging a firearm on federal property. No on the record comment was offered."
Former congressman and retired US Army colonel Allen West also appeared to confirm the charges in a post written on 1 August.
"Ladies and gents, resulting from the text message I received yesterday, I can confirm that the United States Navy is bringing charges against Lt. Cmdr. Timothy White for illegally discharging a firearm on federal property," he wrote.
However, Fox News reported that a senior defence official said it was "extremely unlikely" White would be charged, but that a proper investigation would need to take place.
According to the Times Free Press, a We The People petition has been started to honour the servicemen who used weapons to return fire against the Chattanooga gunman, identified as Mohammed Abdulazeez. The petition has surpassed 20,000 signature but needs 100,000 in order to get a response from the Obama administration.
Fox News reported that White and one of the Marines murdered in the attack fired their weapons against Abdulazeez. According to the Washington Post, the Marine had used his personal weapon during the shooting.
© Copyright IBTimes 2023. All rights reserved.