Celtic boss Neil Lennon has dismissed suggestions he could replace David Moyes as Everton manager at the end of the season.
The Northern Irishman helped guide The Bhoys to a second successive SPL title this season and into the Champions League knock-out phase after beating Barcelona in the group stage.
Moyes was confirmed as the new manager of Manchester United from July leaving Everton to search for a new man at the helm, with Lennon installed as the bookmakers' favourite.
But the 41 year old maintains he has no plans to take over at Goodison Park and says plans for next season with Celtic have already begun.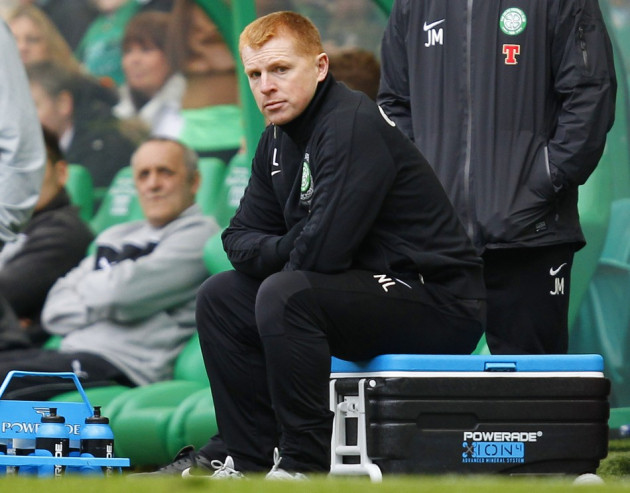 "Everton are a huge club with a huge history," Lennon said. "It's flattering to be linked but that's all it is, a link. I've got a great support, group of players and I'm happy here.
"It is a bit of a hypothetical question. There has been no approach or talk about it. I can't comment on it or dwell on it because nothing is happening, and all it is is speculation.
"You are all talking about me leaving here and I never said I was leaving," the Celtic boss added.
"Everton are a huge club a great club with great history, and they just lost probably one of the greatest managers in their history.
"Roberto Martinez was favourite yesterday and I'm favourite today, it could be someone else tomorrow.
"We're already looking at Champions League preparation and bringing in new players."
"You never know what's around the corner but I'm in a stable job here with good backing from the board and a good group of players.
Wigan boss Martinez, current Chelsea interim manager Rafa Benitez and Cardiff City's Malky Mackay are among the candidates for the vacant position with an Everton side who are expected to finish seventh in the Premier League this season.
Everton chairman Bill Kenwright, who plucked Moyes from Preston North End in 2002, admits he will take his time before appointing a new boss.
'We've had a good 11-year adventure with David and it is my job to get a worthy successor and build on what David has brought to the club,' said Kenwright.
"We will be out there finding the right man. It is important that Everton continue in the David Moyes tradition, in the Everton tradition, with an equally significant manager.
'It was an instant decision when I met David, but I don't think that can happen this time. We have to be very seriously looking to see what kind of candidate can take the club forward."