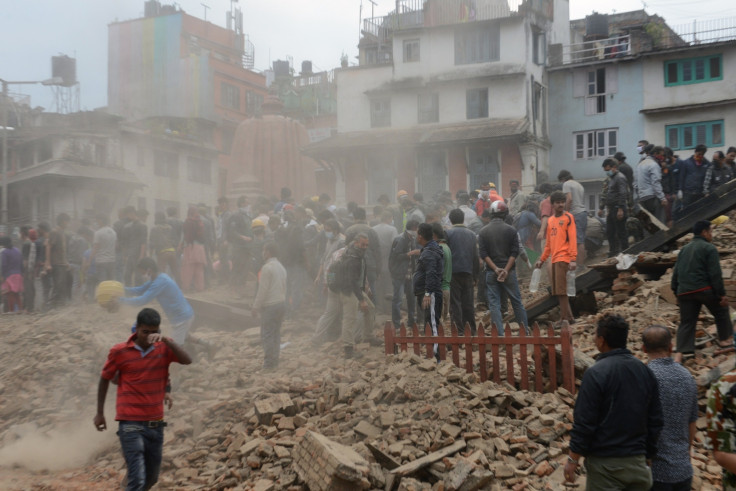 The death toll following the Nepal earthquake has now reached 1300.
Measuring 7.9 on the richter scale the quake caused devastation on a mass scale, resulting in the loss of life across four countries.
The quake struck 50 miles east of the tourist town of Pokhara and 50 miles north west of the capital Kathmandu shortly before noon on 25 April, triggering an avalanche on Mount Everest. 13 people were buried alive in the snow.
Tremors could be felt hundreds of miles away in northern India, Pakistan, Bangladesh and Tibet.
The quake also hit the capital Kathmandu, where 300 people were reported dead in and a further 634 in the Kathmandu Valley. There are fears many others are trapped under rubble.
Houses and temples collapsed due to the force of the tremors. The city's iconic 60 metre (100ft) high Dharahara tower was destroyed with 200 people stuck inside.
Deaths have also been reported across Nepal's borders. At least 36 people, including a 15-year-old girl, have been killed in India, 12 in Tibet and four in Bangladesh. Two Chinese citizens died at the Nepal-China border.
India and Britain have responded to the international emergency with India sending a military air transporter with three tons of supplies and a 40-strong disaster response team. Three more planes were to follow, carrying a mobile hospital and further relief teams.
Britain is sending an eight-strong team of experts, including search and rescue specialists, to Nepal to provide urgent support.
India's Prime Minister Narendra Modi tweeted: "We are in the process of finding more information and are working to reach out to those affected, both at home & in Nepal."
Prime Minister David Cameron tweeted: "Shocking news about the earthquake in Nepal - the UK will do all we can to help those caught up in it."
Labour leader Ed Miliband also expressed his sympathy for all those involved, tweeting: "The awful scenes in Nepal are heartbreaking. My thoughts go out to the people affected, and to those caring for survivors."
With many people feared trapped under rubble, the death toll is expected to rise.
It is the worst quake in Nepal in 81 years.