Nestle India has said its Maggi noodles are safe for consumption, but the company is pulling the product out of the market as consumers are worried.
"We withdrew the product from shelves because consumers' trust was shaken. We want Maggi noodles back on shelves as soon as possible," said Nestle's global CEO Paul Bulcke.
The company, which has been defending its product ever since safety concerns arose, separately said in a statement that Maggi noodles are completely safe and have been trusted in India for over 30 years.
"Unfortunately, recent developments and unfounded concerns about the product have led to an environment of confusion for the consumer, to such an extent that we have decided to withdraw the product off the shelves, despite the product being safe," it said.
"We promise that the trusted Maggi noodles will be back in the market as soon as the current situation is clarified."
The company further clarified its safety policy in a Q&A section on its website.
Nestle said it conducts rigorous food testing and has many stringent controls to guarantee safety, starting from the raw materials used to processing and packaging.
It added that it has tested almost 1,600 batches of Maggi noodles in its own laboratories and an independent lab. The test results confirm that lead levels in Maggi noodles are well within the food safety limits specified by the Indian authorities, the company claimed.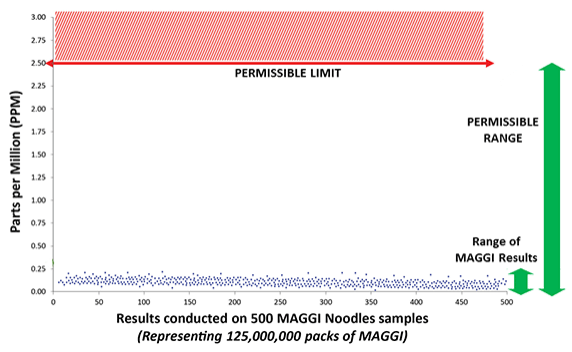 Nestle food safety measures in India and around the world
Nestle said its approach to food safety has evolved from looking for defects in finished products to trying to identify their root cause as early as possible in the supply chain.
The company noted that it has an "early warning system" at work to help "pinpoint signals that may turn into issues".
Its sophisticated technology allows it to test for a wide range of micro-organisms and substances that are harmful to human health, according to Nestle.
In 2013, the company opened "the most advanced laboratories of their kind in the industry" to study food-borne pathogens and help respond to emerging risks.
"We have the same rigorous approach to food safety in India that we have everywhere else," the company said.
"We have 300 people working to ensure quality and food safety in our products in India. We have nine laboratories dedicated to quality assurance and also work with two more external laboratories for independent analysis."
Why there is lead in Maggi noodles
Nestle said trace amounts of lead are present in the atmosphere and in the soil around the world due to the use of fertilisers and pest control. However, the authorities have set limits to ensure that any lead present in a finished product is within recommended food safety levels and safe to consume.
The company noted that it regularly monitors all its raw materials and finished products for lead, including testing by accredited laboratories.
Nestle claimed that it also carries out extensive research on lead and contributes to global efforts to assure safety in this area.
"We are constantly striving to improve the quality of agricultural materials across the food chain, working with farmers, suppliers, authorities and the rest of the food industry to ensure food safety," the company said.
More details about Monosodium Glutamate (MSG)
The company said man-made MSG provides the same flavouring function as the glutamate that occurs naturally in foods.
None of the many scientific studies carried out over the last 30 years has shown a link between MSG intake and adverse reactions, according to Nestle. The World Health Organization, the European Commission's Scientific Committee for Food and the US Food and Drug Administration have all affirmed that MSG is safe under common conditions of use.
"There have been some concerns raised about the contribution of MSG to sodium intake via the diet. However, MSG contains only about one-third the amount of sodium as table salt and so where we use it in products, in combination with a small amount of table salt, MSG can help reduce the total amount of sodium in a recipe by 20% to 40%, while maintaining an enhanced flavour," the company said.
"The level of glutamate for example in Maggi noodles is around 0.2 g/100 g, which is close to the average level of glutamate measured in the same portion size of tomatoes or peas."