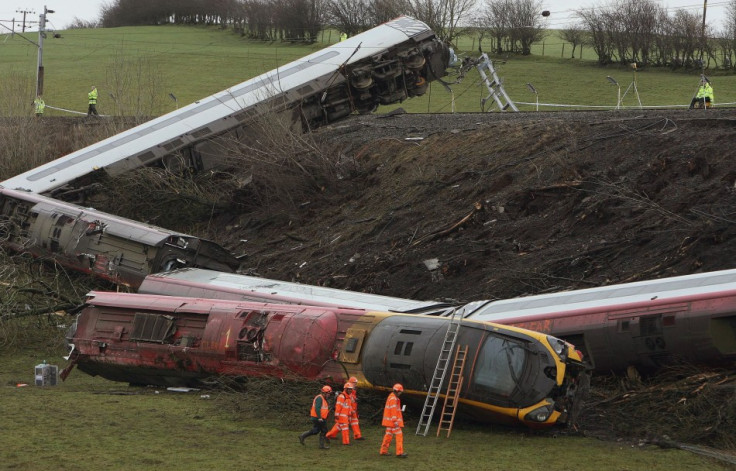 Network rail has been fined £4m over the Grayigg crash in Cumbria in which one woman died and 88 were injured.
Margaret Masson, 84, from Glasgow, died after the Virgin train derailed on the West Coast Main Line in February 2007.
Eighty-eight people were injured, including two train crew, when the train fell down an embankment after going over a "degraded" set of points at 92mph
Network rail admitted it had breached a charge under section 3(1) of the 1974 Health and Safety at Work Act and was sentenced at Preston crown court.
Speaking after sentencing. Network Rail chief executive David Higgins said: "Within hours it was clear that the infrastructure was at fault and we accepted responsibility, so it is right that we have been fined.
"Nothing we can say or do will lessen the pain felt by Mrs Masson's family but we will make the railways safer and strive to prevent such an accident ever happening again.
"We have learnt from the accident, determined to recognise what we got wrong and put it right."
Network Rail was ordered to pay the fine, along with £118,037 costs, within 28 days.
Ian Prosser, the director of railway safety at ORR, said: "The derailment near Grayrigg was a devastating and preventable incident which has had long-term consequences for all involved. It tragically caused the death of Mrs Masson, and shattered the lives of others. My thoughts are with Mrs Masson's family and all those injured and affected by this horrific incident.
"Network Rail is focused on driving safety measures and I welcome the company's progress on implementing safety recommendations made after this incident. But the pace of carrying out improvements has, at times, been too slow and the rail regulator has had to repeatedly push the company to bring about change."
Network rail were fined £1m pound in March after admitting to health and safety breaches following the deaths of Olivia Bazlinton and Charlotte Thompson at an Essex level crossing in 2005.
Last year it was fined £3m for the faulty points that caused the 2002 Potters Bar crash, which killed seven people.
Higgins waived his right to a bonus in February insisting the money would go on to improve rail safety.