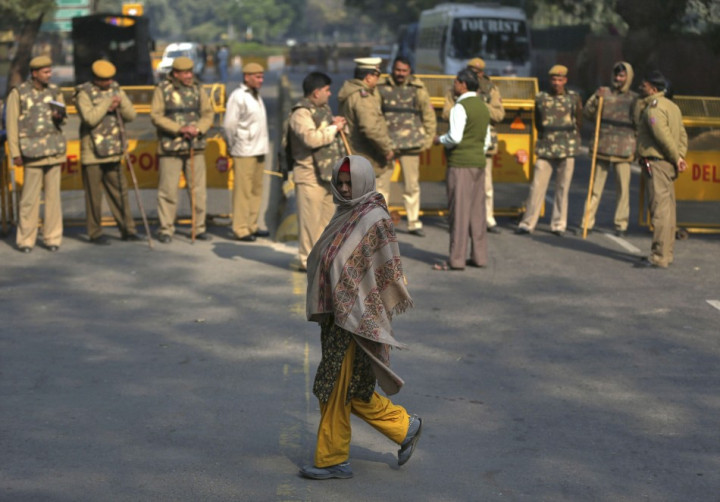 New Delhi has come under a heavy security blanket following fear of massive protests as the 23-year-old gang rape victim died in a Singapore hospital.
Both the state and the federal governments in the Indian capital are taking preventive measures as earlier protests over the incident had turned violent.
Scores of police forces have been deployed while many roads have been blocked for any rallies. Nearly a dozen metro stations, the lifeline of New Delhi's transport network, have been shut down as a precautionary measure.
"Entire Central Vista including Rajpath, Vijay Chowk and all road leading to India Gate will be closed for general traffic, Kamal Attaturk Marg also closed. All traveller[s] advised to avoid these roads," tweeted the Delhi police.
The paramedic's body is expected to be brought back to India at around 15:00 local time (09:30 GMT) on Saturday. The victim's 13-day battle for life ended in the early hours of Saturday.
Posses of security forces are on standby to secure important places including the residences of the prime minister and the ruling coalition's chairperson, Sonia Gandhi.
The government has appealed for calm. "I appeal to you to be calm and peaceful. So that in being calm and peaceful...we can reflect what we need to do in future. It is a shameful incident for me as a chief minister and also as a citizen of Delhi. It is time for all of us to reflect on what has happened. We all must ensure such ghastly incident do not happen in future. I pray for her," said New Delhi Chief Minister Sheila Dikshit.
Several prominent opposition figures, including activist-turned politician Arvind Kejriwal, and key women's rights activist and communist politician Brinda Karat, have vowed to hold peaceful rallies to protest against the girl's death. Students, who have been spearheading the protests, also plan to hit the streets.
Protests are set to take place despite a police ban. "Section 144 [Indian legislation which bans demonstration to prevent violence] has been imposed in New Delhi District Area. All traffic is being diverted away from this area. Peaceful protests will be allowed only at Jantar Mantar and Ramlila Grounds. We appeal to the public to remain calm and peaceful," said a police spokesperson.