EA Sports has announced that New England Patriots tight end Rob Gronkowski will grace the cover of Madden NFL 17 this year. Revealed on SportsCenter on 12 May, the announcement confirms an overnight leak from the Xbox Games Store where artwork of Gronkowski showed up in product listings for the upcoming title.
While the previous five covers were determined by a fan vote, EA Sports chose to take on the decision-making process this year. Gronkowski almost made to the cover of 2015's Madden 16, but lost in the final voting around to New York Giants wide receiver Odell Beckham Jr.
Gronkowski is also be the first tight end to make the cover of a Madden game.
Having played six years in the NFL for the Patriots, Gronkowski is considered one of the best tight ends in the league's history. He is also a four-time Pro Bowler and was a member of the Super Bowl XLIX-winning Patriots. Last year, he starred in a promotional video for Halo 5: Guardians dressed up as Master Chief.
"It's a really special honor to appear on the cover of Madden NFL 17," Gronkowski said. "It's one of those things that pretty much every guy in the league secretly dreams of, so to actually be the one on the cover, it's a really big deal."
While some Patriots fans may be a bit concerned about the infamous "Madden Curse" — several players who were previously featured on the cover have fallen victim to injuries and poor form — Gronkowski isn't worried.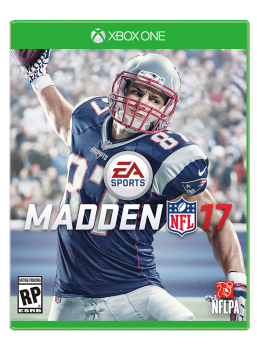 "It's definitely reversed itself from back in the day," Gronkowski told ESPN. "You have to look at the players that were on it recently. You have Odell, who had an unbelievable year last year. You have Richard Sherman, who went to the Pro Bowl the year he was on it. Calvin Johnson, who broke the receiving record when he was on the cover."
"It's the present now," he added. "It's the future of the cover. I feel like I've already went through all my injuries at that time, so I feel like I'm good. I'm blessed right now to be on it. I feel like everything is going to go smoothly."
EA Sports shared an overview of the upcoming title's new features including a new "tiered system" of moves for offensive players and "Gap Play, Force Defenders and improved Zone Coverages" for defensive AI. There will also be eight new zone coverages, tweaks to special teams, a new Kick Meter, the ability to ice the kicker on field goal attempts and new trick plays.
The developer has released the debut trailer for Madden NFL 17, combining "real-world and game engine footage," that shows the game's new cover star running, leaping and charging his way in for a touchdown against AFC East division rival New York Jets.
Madden NFL 17 will be available for Xbox One, Xbox 360, PlayStation 4 and PlayStation 3 on 23 August.