For decades Sicily's mafia operated in the shadows, under a strict code of secrecy in which criminality was veiled by the code of 'omerta' and communications were made by handwritten messages to avoid detection.
But a brash new generation of Cosa Nostra, who spend their time watching Hollywood mafia films and surfing the web, is taking to social media to blag of its exploits and flaunt its wealth.
For the new breed "prison is not a disgrace. It is a degree at the academy of Cosa Nostra", which reports how they taunt police and recruit new members over Facebook.
Alleged Palermo mobster Domenico Palazzotto, 28, has created a Facebook page under a false name in which he posts pictures of himself cruising on motorboats, dining on champagne and lobster, and posing by luxury sportscars.
Palazzotto allegedly helped to run extortion rackets in the Arenella neighbourhood of Palermo, and on the sites aims insults at police, and swaps messages with an aspiring mobster who wants to be enrolled in the clan, reports L'Esspresso.
"Do I need to send a CV?" asked the applicant.
"Yes, brother," replied Mr Palazzotto jokingly. "We need to consider your criminal record. We do not take on people with clean records."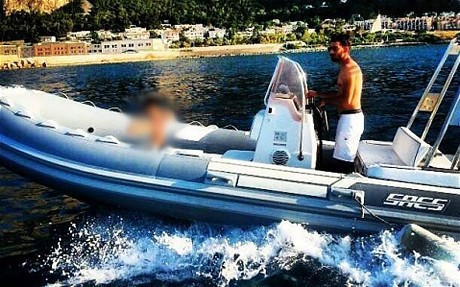 The boss then adds: "Join my team… We are the strongest, ha ha ha."
A source told the Telegraph that Italian police monitor Facebook for information on the mobsters.
Salvatore D'Alessandro, Palazzotto's alleged henchman, also posted pictures of high living with his boss on his page, and writes of his ambitions to move up the mafia's ranks.
"For the time being I am one of the small sharks hunting in the deep," he wrote. "But the moment will come when I rise to the surface and will have no pity for anyone," he writes, in language suited to a mafia TV drama.
The mob's ranks in Sicily have been decimated in recent years, with high-profile figures being arrested or driven into hiding.
But the source said that the new generation were determined to retake lost ground, and did not share the older generation's antipathy for publicity.
"Going online would have been unthinkable for the old guard," the source said. "They lived in farm houses and existed on bread, cheese and vegetables grown there, without using phones and relying on 'pizzini' (handwritten notes) to get their orders out.
"The new generation are using Facebook, texts and WhatsApp to show that they are going to the best discos, beaches and restaurants, because they believe that is key to earning respect. The problem is that makes you traceable and they are getting arrested."
"There is a new generation of Mafiosi in Palermo," said a Sicily-based magistrate who also declined to be named, "but they have yet to prove they have the quality of their predecessors."
In June, Palazzotto was one of 95 suspected gangsters rounded up in 'Operation Apocalypse', which aimed at decapitating the city's new mafia leadership, which is allegedly involved in vote rigging, extortion, drug trafficking and money laundering.