The new NHS doctors contract is great - unless you're a carer, parent, female or disabled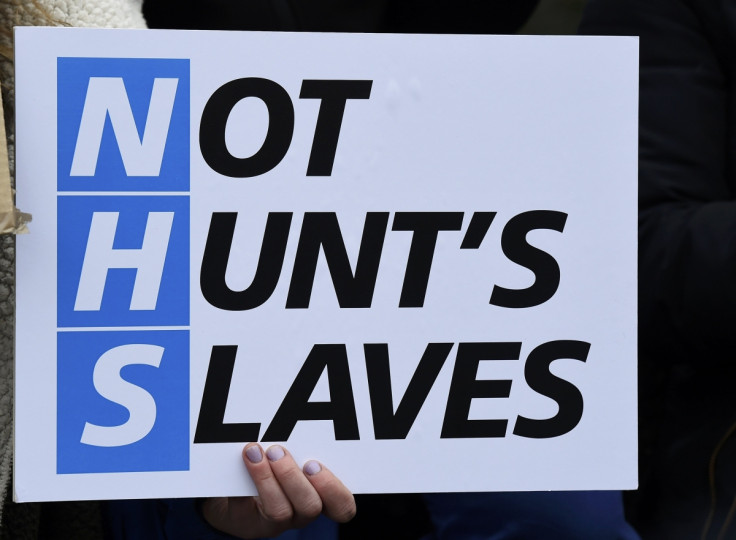 When the government decided to impose a new contract on junior doctors in England, one of the main objections of the British Medical Association (BMA) was that health secretary Jeremy Hunt had failed to undertake an equality impact assessment (EIA).
The government has now released an equality analysis, which reveals several areas in which particular groups of people – notably women, parents, carers, disabled people and those working part-time – might be disadvantaged by the new contract. Yet throughout the document, rather than finding such discrimination unacceptable or seeking ways to address the problem, it repeatedly states that "any indirect adverse effect" on such groups is "a proportionate means of meeting a legitimate aim".
This language is used deliberately – the document stresses that under discrimination legislation, 'indirect discrimination' (where somebody with a protected characteristic is not targeted directly but is disadvantaged by a particular practice or provision) is technically "lawful if it is a proportionate means of achieving a legitimate aim".
In other words, the document repeatedly finds areas where women in particular are likely to be disadvantaged under the new contract, and repeatedly declares this indirect discrimination acceptable if it is the price to pay for the outcome the government claims the new contract will deliver.
One of the biggest areas in which the new contract is likely to adversely affect women is maternity leave. Under the new contract, pay will be tied more closely to career level, rather than time served, which means that those who take longer to progress through the system, such as women who take time off for maternity leave, and those who work part-time in order to juggle childcare or other caring responsibilities will be disadvantaged. The change will also disproportionately impact disabled people, who are more likely to work part-time.
Perhaps most extraordinarily of all, the 'mitigation' section of the analysis relating to this particular change sets out "flexible pay premia" that will be introduced for doctors who might be affected for a variety of reasons, including those spending time in academic placements or taking time out for research. The document explains: "Consequently this will ensure that staff who need to take time out from training posts for these vital reasons will not lose financially".
Maternity leave, however, is not included as one of these "vital reasons" for time off.
In fact, in the same 'mitigation' section, when maternity leave is later addressed, the document states that special measures have been considered to offset the indirect discrimination, including "additional pay on return to work", and "arrangements to support accelerated progression" following return to work. However, it goes on, "although such measures could be seen as promoting equality of opportunity for the Doctors affected, we do not currently consider arrangements of this sort to be fair or appropriate".
On the issue of childcare, the analysis describes how, during contract negotiations, the BMA suggested more generous payment for on-call doctors, specifically because the new contract would adversely affect single parents, as childcare is more expensive at times doctors were likely to be on call. However, the document explains that this argument was discarded because "giving special treatment to single parents [alone] in relation to on call alone would not be fair or justifiable."
A woman in medical scrubs holding a banner with the slogan stands outside Guy's hospital in Birmingham, UK
Ben Pruchnie/ Getty Images
In several places, the document suggests that junior doctors with children might cope with unsociable working hours by relying on family or friends for childcare – a particular irony as changes to pensions also mean that many older women (who might be grandparents of those children) are also now having to work much later in life.
Roshana Mehdian, a trauma and orthopaedic surgeon registrar, says:
"I am distraught, particularly as a female surgeon; we have worked tirelessly in the profession to open doors for women to take up typically male roles. This contract essentially now means I face the decision between my career and a family, unless I find 'informal childcare arrangements'."
The analysis also acknowledges that the changes to doctors' pay are likely to have a disproportionately high impact on certain specialities, including paediatrics and obstetrics and gynaecology, where there are a disproportionate number of female doctors.
This becomes a lot more significant when you realise that women make up 72% of registrars in paediatrics and 75% in obstetrics and gynaecology. These are specialities where it is already difficult to recruit and retain staff, with gaps already in many paediatric rotas. This means that should more staff drop out and others are deterred from entering the speciality, and in turn, there could be an even greater adverse effect on remaining staff as well as a very real risk to patient safety, according to junior doctors.
Government considers this acceptable and thinks it can be squeezed through equalities legislation because the indirect discrimination is 'proportionate' and 'justifiable'
Ruth-Anna Macqueen, an obstetrics and gynaecology doctor, says:
"As a mum of two and somebody working in obstetrics and gynaecology, I'm exactly the kind of person that's going to be most disadvantaged by the new contract and also the kind of worker the Government can least afford to drive away. There is already a particular shortage of doctors in my specialty and I can't see how it is going to get any better. We already lose 20 per cent of trainees before they even finish training and the people around me are already making their exit plans."
At one point in the equality assessment, the Government mentions that it did consider putting measures in place to protect and support women taking maternity leave and part-time workers... but decided against it.
"Particular consideration has been given to whether special provisions should be made under the new contract for those taking maternity leave and those working part-time. Such provisions could be seen as promoting equality of opportunity for women. However, we have concluded that such measures would be inconsistent with the principle of pay based on level of responsibility that underpins the new contract."
In other words, again and again, it is announced that the new contract is likely to adversely impact women, part-time workers, carers and disabled people working for the fifth largest employer in the world. But the Government considers this acceptable and thinks it can be squeezed through equalities legislation because the indirect discrimination is 'proportionate' and 'justifiable'.
Female junior doctors resoundingly disagree.
The Medical Women's Federation said it was "disappointed and dismayed" and warned that more women doctors are likely to move specialty or leave the profession altogether.
Ellen Newberry, a final-year medical student, sums up what many female junior doctors feel is the overall sense of the equality assessment:
"The wording of the contract gives the lie to the government's suggestions that the new version will be fairer than its predecessor. Far from protecting the female medical workforce, it has instead effectively described us as collateral damage."
---
Laura Bates is the founder of the Everyday Sexism Project
---
© Copyright IBTimes 2023. All rights reserved.