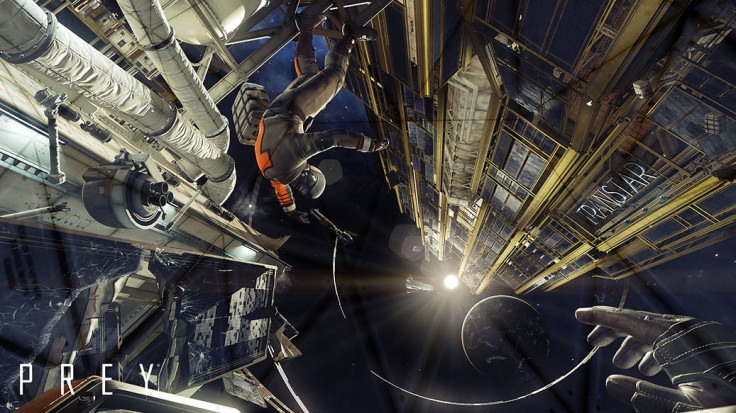 Bethesda has released a brand new gameplay video for its upcoming sci-fi shooter, Prey, at the Gamescom convention in Cologne, Germany. Described by the publisher as a gameplay teaser, the video shows off a few of the game's weapons, inventory systems, visually-stunning environments and the intriguing Mimic ability that allows players to transform into another object.
The two-minute video features the Gloo Cannon that lets players freeze enemies in place after which they can use a Superthermal to set off an explosion and kill the creepy aliens that lurk aboard the space station.
The teaser trailer also gives fans a glimpse of the fascinating Mimic ability that allows the protagonist to transform into another object, such as a coffee mug, to enter through small openings, nooks and crannies and explore hard-to-reach or locked areas of the station.
The second half of the video takes players outside the space station, drifting through space. Although the video does not feature much action outside the station, it does highlight some of the gorgeous environments and scenery players can expect to experience paired with a bit of the original score gamers can enjoy in the upcoming pseudo-sequel.
Revealed at Bethesda's E3 press conference in June, Prey is being developed by Arkane Studios, best known for its Dishonored series. Set in 2032, players are cast as Morgan Yu — the test subject of some "morally dubious experiments" — who attempts to find out the truth behind the massive, alien-filled Talos 1 while trying to survive.
Already markedly different from the open-world, bounty-hunting Prey 2 seen back in 2011 that was eventually cancelled, Arkane Studios creative director Raphael Colantonio previously said the upcoming Prey is not a sequel or a remake, but "a re-imagining of the IP." He also said that the new Prey does not have any ties with the original Prey released in 2006 or the cancelled sequel.
Prey is expected to release in 2017 for PS4, Xbox One and PC.