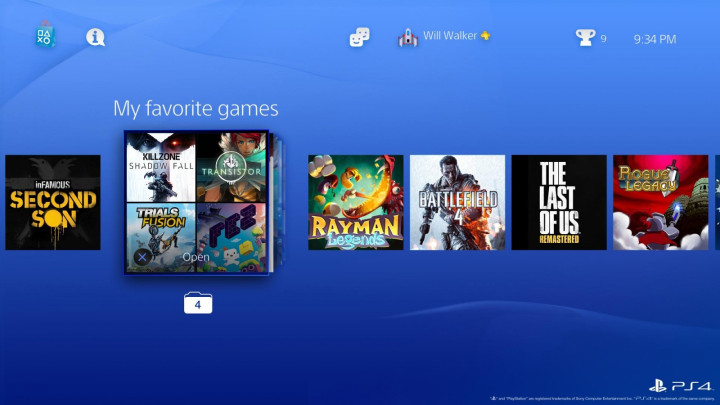 In what comes as a good news for gamers, the Sony PlayStation 4 or PS4 might be getting a brand new user interface very soon. Yesterday, alleged screenshots of the new interface of PS4 hit the Internet through platforms like Reddit. Check them all out over here.
The screenshots indicate that this new UI scheme for the PS4 will allow players to do things like organize their library of PS4 games and apps with folders. This happens to be a very basic and important feature that gamers have been requesting for ever since the console launched eight months ago in 2013.
Why are the Folders Important?
The folders make it easier for players to find apps, games and content once their console hard drives have been filled up heavily.
Apart from this, the new UI will also bring changes for game invites and Trophies. Trophy notifications will be smaller, with the different kinds of trophies being bronze, silver, gold, or platinum. Invites appear to be sleeker and more minimal.
It goes without saying that players would love to have this new UI right away given that the current UI is extremely annoying to use on a daily basis, especially if you have filled up your PS4 hard drive to its brim.
The bad news for PS4 owners is that these new screens could be fake. A verified Sony employee on Reddit declared the UI images to be a fake. Apart from this, certain users on NeoGAF spotted inconsistencies in between the screenshots, allowing us to believe that these images could be fake.
All said and done, if Sony does have plans to give players a new UI refresh, there is a good chance that they will announce it at the upcoming Gamescom convention in Germany this week since the company has a few announcements planed at the event.