Could Microsoft be gearing up to announce a new Xbox One SKU with a bigger 1TB hard drive at E3? The rumours could be about to kick into overdrive after such a model was spotted on a Spanish retailer site.
Lamee revealed what it calls the "Xbox One Basic" and lists it at €449.99 (£325, $506), which is €50 more than the current top 500GB model. It being called the basic model might also infer an even bigger model might be announced.
A release on 23 June is also listed, which if true would mean a release only a week after E3. An image of the listing from Google Cache can be seen below.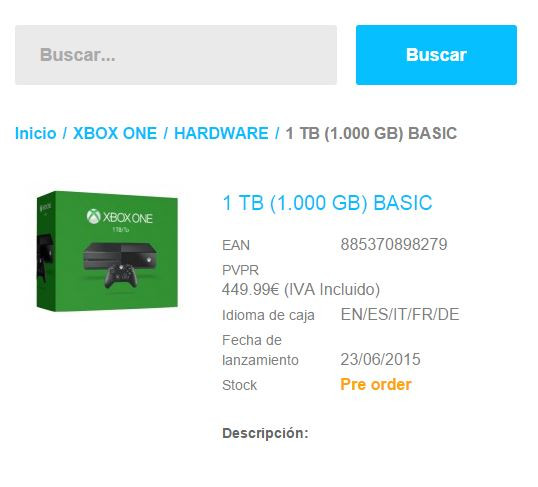 An Xbox One with a 1TB hard drive has been released before, a limited edition Call of Duty: Advanced Warfare model announced at Gamescom 2014 and released to coincide with that game's release last year.
New models for both the Xbox One and Sony's PlayStation 4 have been rumoured, but to date only on the logic of the previous console cycle, which introduced slimmer, re-designed models two years into their lifetime. Late 2015 will be two years since the release of these two consoles.
Of course circumstances are very different now. The PS4 doesn't really need to be redesigned, but it could use a bigger hard drive, but the Xbox One could use a slimmer version. Of the two it is Microsoft most in need of something fresh as the PS4 continues to sell very well around the world.
The Spanish listing however depicts a box with the original Xbox One design, which could be a placeholder.
We'll find out whether there's any truth to the listing at Microsoft's E3 press conference next month.