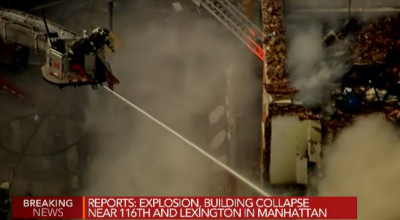 Police and firefighters have been called at the site of a large explosion that caused to buildings to collapse in New York City.
A blast has been reported at a six-story apartment building in 116th Street and Park Avenue in Upper Manhattan at around 9am local time.
"It [the explosion] shook my building so hard I really thought it was going down," a local resident told NBC Channel 4 news.
Charred vehicles parked around the building could be seen in footage broadcasted by television channel.
A pile of debris could be seen where the building once stood with thick grey smoke rising form the area.
The blast hit 1644 and 1646 Park Avenue, East Harlem.
Both buildings, which were reportedly owned by the Spanish Christian Church, are said to have collapsed as a consequence of the explosion.
The New York Fire Department said 16 people were injured in the explosion.
Harlem Hospital said they were treating one person with heavy trauma and expecting at least one more.
East Harlem residents told WABC television they heard a loud noise and saw smoke in the area. Some said they heard a "thundering noise" like a building collapse.
Metro-North trains in the area have been temporarily suspended.
Read more here.