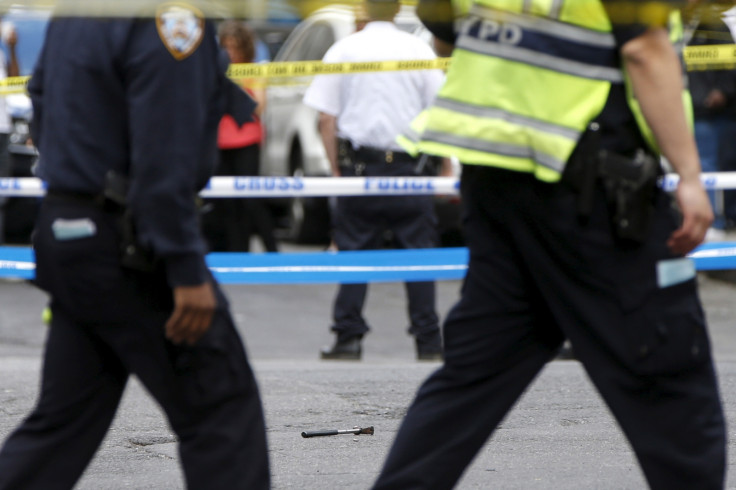 New York Police shot a hammer-wielding man on 13 May who was wanted for his alleged involvement in a string of attacks in New York City earlier this week. The man, identified as David Baril, was shot after attacking a police officer in an altercation caught on video, police said.
Baril was admitted to Bellevue Hospital Centre with three gunshot wounds, one each to his arm, back and neck, and was listed in critical but stable condition, the Wall Street Journal reported. The 30-year-old has a history with paranoia and schizophrenia and a lengthy criminal record, authorities said.
He was sought as the suspect in a series of four hammer attacks in New York City on 11 May, police said. Authorities recovered a white, metal claw-hammer from the scene of the shooting. According to NBC New York, Baril was shot near West 37th Street and Eighth Avenue around 10am EST.
The Wall Street Journal reported that Baril was connected to one of the earlier subway attacks by the New York Police Department's facial recognition system and to another attack by one of the victims of the attack.
Baril was located by Officers Geraldo Casaigne and Lauren O'Rourke as they were on patrol near Penn Station. "As the two officers approached the suspect, he immediately pulled out a hammer...and attempted to assault a female officer," Police Commissioner William Bratton told reporters.
A NYPD surveillance camera stationed a block away caught the incident, including the shooting, police said. According to the Wall Street Journal, the video shows 27-year-old O'Rourke running into an intersection as Baril swings at her three times, apparently striking her. Her 36-year-old partner is then seen running behind them with his gun.
Both O'Rourke and Baril are seen falling to the ground, as Baril is shot by Casaigne. Like Baril, O'Rourke was also treated for injuries at the back of her head and her back at Bellevue.